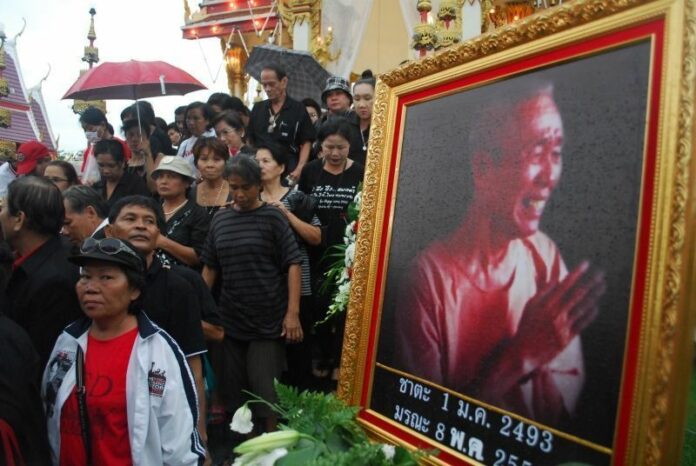 (10 May) Activists gathered to honor the memory of a political prisoner who died in prison a year ago, while his wife called for immediate release of other political prisoners.
Mr. Ampon Tangnoppakul was accused of sending SMS containing material offensive to the monarchy, and later convicted with Section 112 of the Criminal Code (lese majeste). He was 62 when he was convicted. He came to be commonly known as Ah Kong SMS and Uncle SMS.
After spending more than a year in jail, Mr. Ampon fell ill and died. His death was followed by renewed calls for change in Thailand′s lese majeste – widely considered to be the toughest of its kind in the world – and improvement in prisons? treatment of inmates.
Mr. Ampon had always insisted his innocence. He once remarked that, at such old age, he could not even properly send a text message from his phone.
On 8 May, the event to mark his passing was held at Silapin Prai (Commoner Artists) Room in Imperial World Ladprao shopping mall – a regular venue for Redshirts? activities. Among the crowd who attended the event are Mr. Ampon′s wife, Ms. Rosmalen Tangnoppakul; Mr. Somsak Jeamteerasakul, a lecturer and political critic from Thammasart University; relatives of other political prisoners; and a number of Redshirts supporters.
Ms.Rosmalen stated that when she heard the news of her husband′s death, she was shocked and had to sneak away and weep in the bushes close to the prison where no one could see.

Ah Kong had been sick for quite some time, Ms. Rosmalen told our correspondent, and she was hoping to bail him out so that he can receive proper treatment, but she wasn't allowed to do so in time. Ms. Rosmalen added that today, she is already quite numb to the deep pain she feels because she needs to act as a model for the grandchildren so that they can see that she is still strong.
I cannot show any weakness, Ms. Rosmalen said.
She went on to say that she feels tortured by imprisonment of other remaining political prisoners, namely Mr. Surachai Sae Dan and Mr. Somyot Pruksakasemsuk who are now imprisoned for lese majeste.
If there was a way I could help them, I would immediately. But when I think of how helpless I was with my own husband, I feel depressed. If you ask me whether I want revenge, I just don't want to remember any of it. People have told me to pray and wish happiness to all creatures." Ah Kong's wife said.
Mr. Aanon Numpa, the lawyer defended Mr. Ampon in court, insisted that there is no evidence of Mr. Ampon ever sent the offensive SMS.
Even as Mr.Ampon denies doing so, the court simply said it was because he was trying to hide his actions, which was very sad. We could not file for an appeal because Mr. Ampon is now dead, Mr. Aanon told our correspondent.
Currently, Mr. Aanon is seeking release of Mr. Ekachai Hongkangwan, another lese majeste convict sentenced to 5 years in prison. Mr. Aanon is now putting up his own properties as securities for bail.
Mr. Aanon said he hoped the court would let Mr. Ekachai out of prison to take care of his parents: his father, 82, has Parkinson's disease, and his mother is handicapped and cannot walk.
Mr. Somsak, the prominent academic who repeatedly calls for abolition of lese majeste laws, told our correspondent that Ah Kong case strongly moved him, stating that any person with common sense can clearly see that Ah Kong was an innocent victim.
He was not granted bail due to the court fearing he would flee. He was sentenced to 20 years in prison. Anyone with the slightest bit of humanity would not have come to this judgment since there was no evidence of Ah Kong's guilt at all, Mr. Somsak said.
The academic added that he was also very angry to see that when the court sentenced Ah Kong, many self-proclaimed civil rights groups lacked the ravery to protest the ruling, even though they all believed Ah Kong was not guilty.
One such examples is Dr Tul Sitthisomwong, leader of royalist multi-coloured shirts group, who had told Mr. Somsak that he did not believe Ah Kong sent the SMS. He expressed his belief again during a panel discussion organized by Foreign Correspondent Club of Thailand (FCCT) few months ago. Nonetheless, Dr. Tul never publicly protested Ah Kong′s imprisonment.
Mr. Somsak also talked about his ongoing lawsuit – he was charged with lese majeste in 2011 for criticizing Princess Chulabhorn′s televised remarks. A representative of the Thai military filed the complaint.
I?m told that my case has reached the prosecutor. Before this, my lawyer and I have requested the police drop the case since there was no evidence. The police officers also agreed, but since the plaintiff, the army, is powerful, there is nothing to be done." Mr. Somsak said.