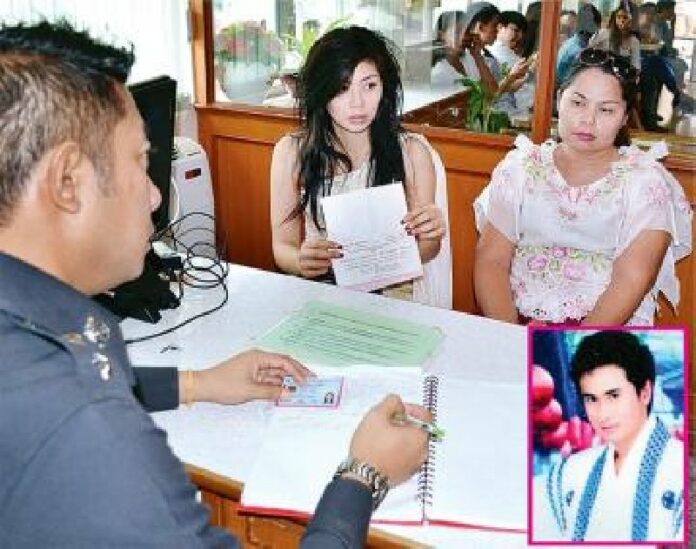 (12 May) A bride filed complaint against a man who reportedly promised to marry her but disappeared on wedding day, refusing to pay neither the wedding preparation cost nor the promised dowry.
Ms. Tatchada Prachoomsarn, 21, in her bridal gown, with Ms.Pawana
Prachoomsarn, 40, her mother, along with 10 of her family and friends arrive at Mueang Lopburi police
station to press charges of spreading false information to cause financial and reputation loss
against Mr. Nattapat Holarn, 29, whom she said was her fiancee.
Ms.Tatchada said she had been
dating Mr.Nattapat for 1 year and he came to see her mother to ask for her hand in marriage. He
offered to pay a dowry of 300,000 baht in cash and gold.
The wedding, she said, was set to
take place on 12 May and has been paid for by the bride's mother, 240,000 baht in total, all of
which the groom promised to reimburse.
Ms.Tatchada said that she woke up at 05.00 today in
anticipation for Mr.Nattapat's arrival at 07.30 with the 'kanmark' – a traditional wedding procedure
involving the groom leading colorful procession to the bride′s house to ceremoniously ask her hand
for marriage – but he did not show up. She then called him on his cellphone but was unable to reach
him.
She and her mother, along with relatives and friends, then went to his house but he was
nowhere to be found. His parents confirmed that they had no knowledge of the wedding, so she decided
to go to the police station.
Right now, nobody knows where Mr.Nattapat is, which seems to
confirm that she has been duped. She pressed charges and police are now looking for Mr. Nattapat so
they can negotiate and come to a solution.
She also said that not only did she lose money
for the wedding ceremony, she feels so ashamed because she invited more than 100
guests.
Initial investigations reveal that Mr.Nattapat had 3 previous wives whom he has
divorced. A warrant summoning the man to the police station for questioning and mediation will be
issued.