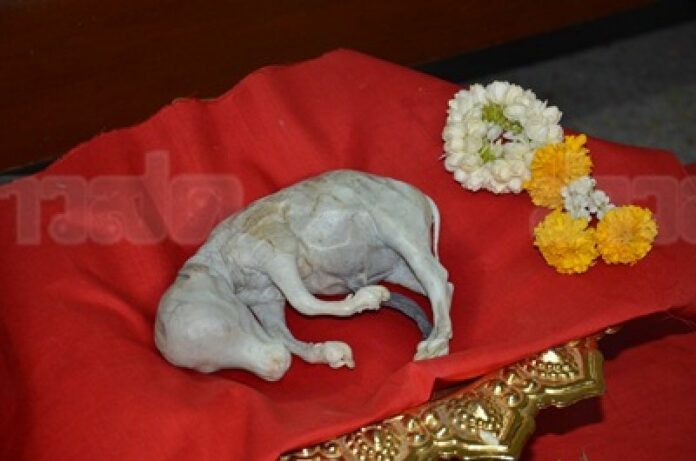 (12 May) Residents in Nakorn Pathom province pray to a corpse of a white-colored buffalo which died shortly after its birth.
The corpse is displayed on a shrine at Sawang Arom temple, Nakorn
Chaisri district, where scores of locals light their incenses and pray to the dead animal, asking for lucky lotto number and good fortune in their lives.
Some reached out to touch the corpse with their money, believing that its spirits would help bring wealth to them.

Pra Kru (Temple Master) Yatithammanuyuti, abbot of the
temple, said the calf was born on 11 May to a buffalo
given to the temple by one of the locals.
He told our correspondent the
buffalo suffered greatly in its labor before finally giving birth to a 20 cm. baby buffalo. Its skin was distinctively white, reminiscent of the White Elephant held sacred by Thai traditional belief.
The abbot said the baby did
not live long – it died 20 minutes later – so he had the temple staff
clean the corpse and display it on the shrine. Words spread quickly in neighboring villages, drawing large crowds to the
temple.
However, the abbot added that he had told the villagers it is
better to work hard in order to get rich than praying to prematurely born
buffalo.