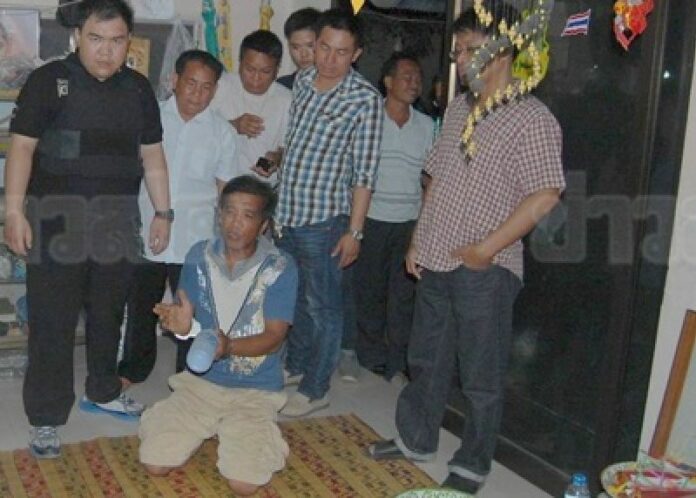 (17 May) A monk was shot in his temple residence by a suspect who reportedly told witnesses he did it to test his magical power, and later confessed that he killed the monk because of jealousy.
At 23.00 last night, officers of Baandu police station, Chiang Rai province, received reports of a monk being shot at Suntonfan temple′s monk quarters. Investigative officers arrived at the scene of the crime.
Upon inspecting the chamber of the victim, Pra (monk) Chalermchon Suwanno, 44, police found large pools of blood in the bathroom area. Locals informed police that the monk, who served as the vice abbot, has been sent to the hospital and that he was in critical condition, having been shot by a rifle on his left arm and torso.
Investigations inside the monk's chamber revealed no stolen property. A parishioner revealed that he heard a loud sound similar to a firecracker coming from the monk chambers, and some of the parishioners went down to see what was going on.
They said they found a local man named Mr. Praison Subinchompoo coming out of the monk chamber and getting on a white pickup truck, license plate 847. Before he sped away, he reportedly shouted "It was nothing. I was just long khong (testing my magic)."
The parishioners then looked around, but could not find the vice abbot. They found trails of blood on the floor and knew the monk had gone out asking for help. Locals took the injured monk to the hospital and called the police.
Later, at 01.30 am, police searched Mr. Praison′s house and found the suspect in drunken condition. The police also found the vehicle matching witnesses? description, and detained Mr. Praison for questioning.
Mr. Praison said he was working in Taiwan for 7 years and had been back for 2 years. He said he was recently trying to mend relationship with his divorced wife, but he noticed that she often visited the vice abbot at the temple, offering him food and asking for his astrological reading.
The suspect said he felt very jealous because of this. Earlier tonight, he said, he got himself drunk and visited the vice abbot for chats. When the monk turned away to look for an amulet to give him, Mr. Praison reportedly pulled out a gun and shot him.
Mr. Praison told police he told the witnesses he was merely testing his magical power, and threw away the gun on his way back home. The police have arrested Mr. Praison and will investigate further.