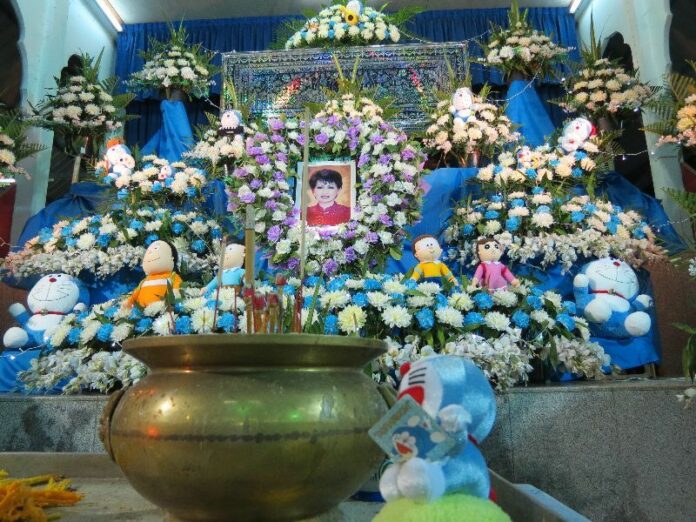 (16 May) Our correspondent visited Yang temple, Petchaburi province, after receiving reports of a strange funeral where the casket is surrounded by toys resembling characters from ?Doraemon? – the Japanese comic hugely popular among the Thais.
The funeral was held for Ms.Panichaya Maitree, 49, who died from cancer. Her coffin is also decked with white and blue flowers, which is the theme color of Doraemon. A Doraemon doll was placed there by the deceased's daughter.
Ms.Sarunya Metamaitree, 39, the deceased's sister, revealed that her sister greatly loved Doraemon. She collected every merchandise from the cartoon, duvet covers, pillows, plush toys, alarm clocks, water bottles, etc. for 10 years. So, Ms.Sarunya and her niece felt it was fitting to give her final farewell with Doraemon theme.
Ms. Sarunya said she wanted the guests to smile a little in this sad time as well.
Afterwards, Ms.Sarunya took our correspondent to the deceased's house, revealing her business: ?Dorae-spa?, a Doraemon-themed spa, with all Doraemon themed furniture and interior design, from the mail box, to the house number, all bearing the robot cat′s face.
The spa also houses many Doraemon merchandise such as keychains, dolls, water bottles, including all spa equipment such as towels.
In the comic, Doraemon is a robotic cat who travels in time from the 22nd century, bringing hi-tech equipments from the future to guide a young boy called Nobita – the great-grandfather of his 22nd century master – onto a better life.