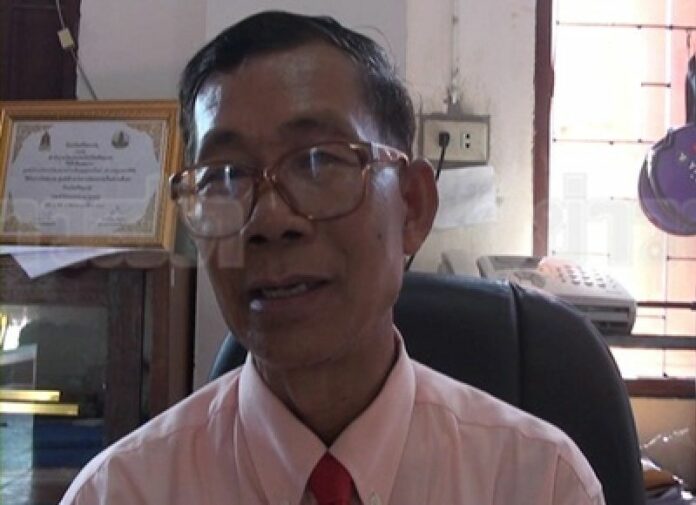 (17 May) Director of the school where a 3 year old boy was allegedly left in a locked car for 7 hours until he suffocated to death by one of its staff said today that the boy was not enrolled in the school, contrary to what the boy′s mother claimed.
Mr. Boonma Nuanlai, director of Utumpornwittiya school, Sisaket province, admitted that the boy, nicknamed ?Potter?, came to school very often but stressed that he was not a student.
The reason Nong (little brother) Potter came to school with the teacher was because they were related, so the school permitted Nong Potter to tag along to school, so as not to be left alone at home, Mr. Boonma said in the interview with our correspondent at the school.
The director said that since Potter was not registered, the school had not gained any financial subsidy from the government for taking care of him at all.
Every day that Nong Potter attended the school, he was taken care of superbly, but he was not at school every day, only ever so often, Mr. Boonma said.
Mr. Boonma added that the claims that Potter's mother had registered to pick up the boy's school uniform is entirely untrue, because the school had taken the uniform to him for free, as one of the teachers was related to him and the family was quite poor.
On the day of the accident (14 May) Nong Potter's family was just coming in to enroll him into the school, along with all his paperwork that was in his school bag. However, the accident happened before he was enrolled, Mr. Boonma told our correspondent.
According to Mr. Boonma, before the incident, Potter's family understood the conditions and status of their son at the school very well. Yet, he said, they have intentionally spoke ill of the school, misleading the police and the media.
They have defamed the school. The official rules of the school is children who are under 3 years old cannot enroll. The only reason Nong Potter was there was out of the kindness of the school…so his parents can go to work without worrying, Mr. Boonma insisted.
That being said, although Nong Potter is not a student of Utumpornwittiya School, the school is willing to help and take responsibility, according to the director.
The school has already offered to pay for the funeral service, Mr. Boonma said, before stressing that it would be the school′s money – not the government′s money – since Potter was not registered in the school database.