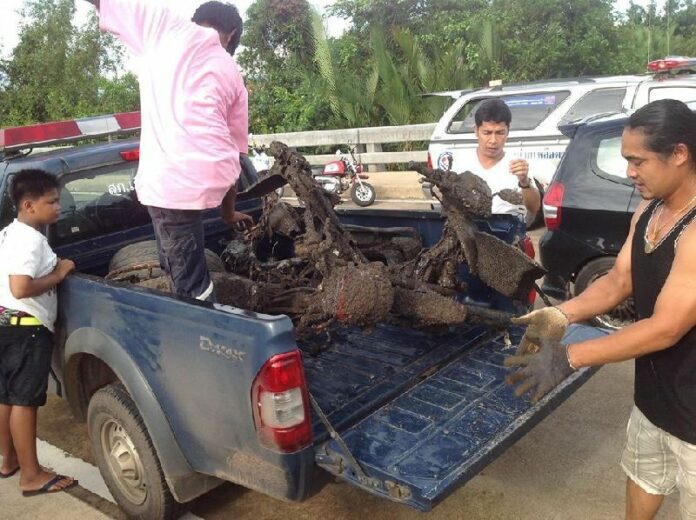 (19 May) Locals in Trat province who went fishing for shrimps at Khlong Bang Pra canal had found rusty remains of stolen motorcycles instead.
Officials and rescue workers, notified of the discovery, arrived at the bridge crossing near the Bang Phra canal to find Mr.Manop Rawung, headman of Moo 5 village, Mr.Prasarn Poompuang, 56, the discoverer of the motorcycle wreckage. Rescue workers and Trat police officials dove 4-5 meters in to Bang Pra river and spent about 1 hour recovering 5 motorcycles.
Investigations reveal the motorcycles to be a Honda Wave without a license plate, a Honda wave 125, license plate กฉท 635 Trat, a Honda Tayna license plate กบย 761 Chantaburi, and 1 unbranded motorcycle. These 4 motorcycles had their parts removed. One Yamaha Fino motorcycle was also found, with all its parts intact.
The motorcycles were taken in as evidence to Trat police station and the police is now waiting for the owners to come forward to identify the motorcycles or report them missing.
A senior police officer said that these wreckage are most likely stolen motorcycles, whose parts have been separately sold, and the rest dumped into the river to destroy the evidence.
"Right now what's left of the motorcycles is being investigated for serial numbers to identify the owners and whether they have reported the motorcycles missing, and in order to identify the culprits," he said.