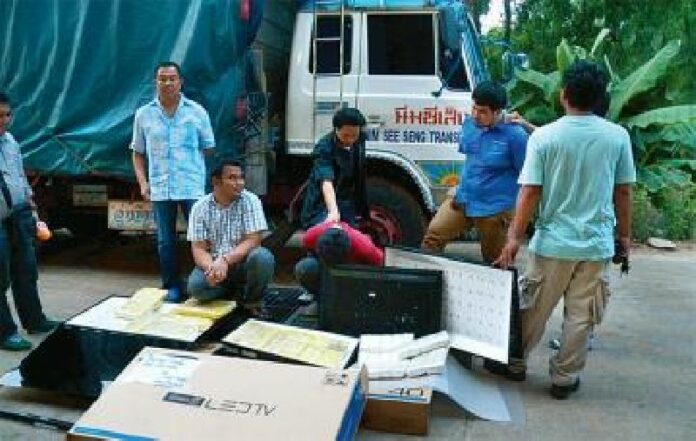 (20 May) A police raid on a shipping company in Pathumthani province seized tens of thousands of methamphetamine tablets stashed inside flat screen TVs, ready to be delivered to southern Thailand.
Around 17.30 police officers raided the Talad Thai branch office of Nim Si Seng Transport Co. Ltd.in Pathumthani province after receiving reports of a large lot of drugs being shipped buy the company. When the team arrived, the suspects had already loaded the goods onto a vehicle.
Department of Public Welfare police raided Nim Si Seng, a renowned shipping company in Talad Tai area, and was able to uncover more than 200,000 methamphetamine tablets stashed inside flat screen TVs, ready to be delivered to the South. The 3 suspects were apprehended, along with 2 vehicles.
3 suspects were apprehended: Mr.Udon Gludjaroen, 28, Mr.Pitsanu Sriyotee, 24,and Mr.Asaree Ornumart, along with a Honda car license plate ฏห 4897 BKK, An Isuzu truck license place วห 5791 BKK.
2 40 inch flat screen TVs and 1 32 inch flat screen TV were found on the vehicles, with the sender addressed as "Mr. Natee Jaimun tel.09-3296-3678" and the package was addressed to "Mr.Kanokpon Jaimun tel. 08-8432-9386".
35 packets of methamphetamine pills were placed inside the TV sets. 20 more packets were found inside the cardboard box. A total of 110 packets of 220,000 methamphetamine pills were confiscated.
Mr.Asree informed police that he was contacted to pick up boxes of flat screen TVs delivered by Nim Si Seng, Ampur Fang Branch and to deliver the goods at a set meeting spot in Pattani province and that he will get paid 70,000 baht. He also said that this was his first time on the job.
A senior police official revealed that the suspects have been detained for questioning in hopes that it may reach to a larger arrest since it is suspected that this is one of the largest Northern drug rings, often deceiving police officers such as disguising drugs as electrical equipment to avoid arrest because some policemen are reluctant to search electronic devices, out of fear that they might harm the goods.
However, the police have reached out to shipping companies to compartmentalise and check the goods that they shop. For this case, it will be investigated whether an extension of the company′s employees were involved or not. If found guilty, they will be prosecuted by law.