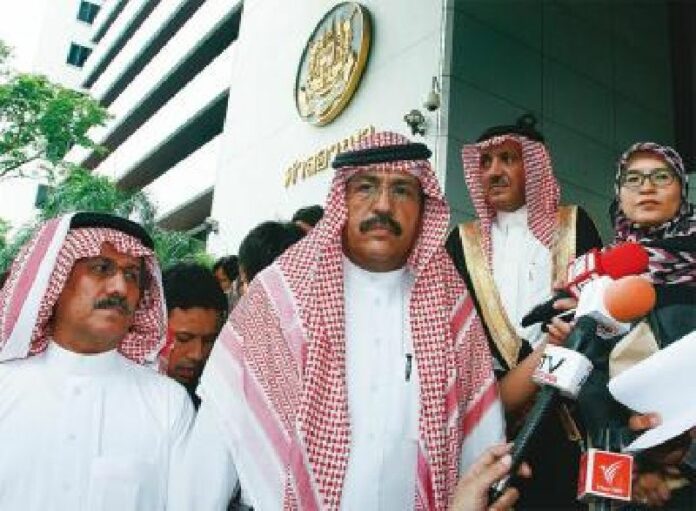 (21 May) The brother and cousin of kidnapped Saudi businessman faced the police officers alleged of engineering his disappearance for the first time in Bangkok′s court.
Mr. Mohammad Al-Ruwaili was abducted in Bangkok 23 years ago, and presumably murdered, although his remains were never found. 5 senior ranking policemen were arrested and accused of the kidnapping. They maintained their innocence.
The saga contributed to a breakdown of Thai-Saudi relations, but the case has seen new developments in recent months, including the report that an important witness, who now resides in United Arab Emirates (UAE) might be willing to give his testimony, but experts have feared that legal complications between the two nations might invalidate that chance.
Yesterday (21 May), however, the Criminal Court judges said during the landmark court hearing that acquiring testimony from Pol.Lt.Col. Suwichai Kaewpaluek would not violate the Constitution. The court has arranged a team to interview Pol.Lt.Col. Suwichai in UAE on 31 May.
The defenders said they disagreed with the court′s decision and said they would not participate in the interview.
All parties involved were present at the court yesterday. Mr. Ateeq Al-Ruwaili and Mr. Matrouk Al-Ruwaili, brother and cousin of the victim, respectively, and the delegation from Saudi Arabia sat in the plaintiff side of the pews while the accused – Pol.Lt.Gen Somkid Boontanorm, Pol.Col. Sorrarak Juusanit, Pol.Col. Prapas Piyamongkol, Pol.Lt.Col. Suradech Udomdee, and Pol.Sgt.Maj. Prasong Torrang – sat at the other side of the pews.
Other officials and member of the press separated the two sides. The Al-Ruwaili family did not speak with the accused throughout the session.
Additionally, Mr. Anek Kumchoom, the lawyer representing the Al-Ruwaili family in court, file a request from Ms. Wakdah Al-Ruwaili, mother of the victim, to join her son as a joint plaintiff. The court approved her request.
Once the hearing was over, the 5 police officers, released on bail, filed out of the courtroom immediately. They refused to be interviewed by the press, saying that they did not want to violate their bail conditions.
The next court hearing is scheduled on 2 September. Both Mr. Ateeq and Mr. Matrouk told our correspondent they would be at the court.