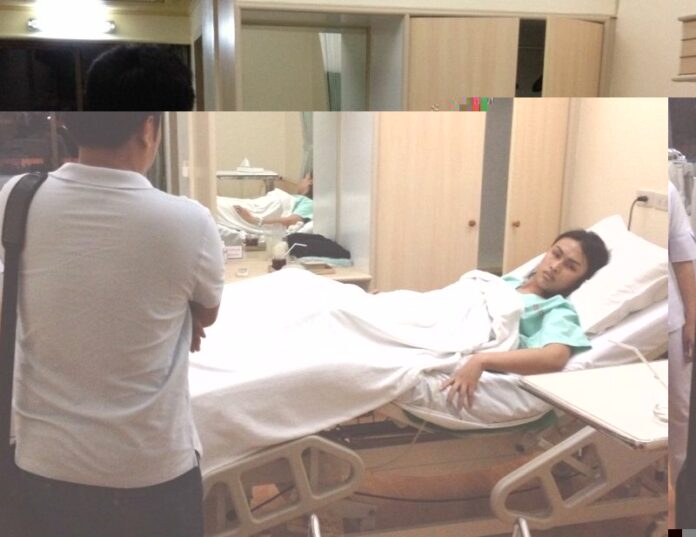 (23 May) Songkhla police arrested a transgender accused of robbing a Kuwaiti citizen while he was recovering from his sex change surgery in hospital.
Mr. Duhaimal Alalati, 56, employee of an oil company based in Kuwait, said he was robbed of his 300,000 baht by Mr. Sumit Manupan, 20, a transgender individual from Ubol Ratchathani province. The robbery reportedly took place in the early morning of 15 May after Mr. Alalati met Mr. Sumit and had sex with him.
Today, the police located Mr. Sumit in a hospital in Hat Yai district of Songkhla province, where he was undergoing a sex change operation. Mr. Sumit was still on doctor′s bed when police apprehended him. The police then confiscated 50,000 baht from the suspect and escorted him to Bangkok.
The police said it was very inconvenient trip for Mr. Sumit since he just had a sex change operation. However, preliminary medical report reveals that Mr. Sumit is not in any medical danger
Mr. Sumit, who gave his nickname as Nong (little sister) Aimie, confessed to the robbery. He told police that he and the victim met in front of a night club on Pattaya′s Walking Street. They subsequently went to a hotel room, and after they had sexual intercourse, the Kuwaiti fell into a deep sleep.
The suspect said he noted a wad of cash fallen out of the victim′s pants, so he took it and fled to Bangkok, where he deposited the money into his bank account and took a bus to Hat Yai to have a sex change operation. Mr. Sumit said he has already spent part of the stolen money.
"It is every lady boy's dream to have a sex change operation, so after I got the money, I contacted a doctor immediately. I paid over 90,000 baht and now I feel relieved that I'm a woman. Too bad I was arrested on my hospital bed." Nong Aimie said during the police press conference.
The police officer said the detectives have scoured Pattaya′s Walking Street looking for Mr. Sumit and received tips from other transgender individuals that he said he would have sex change operation in Hat Yai. Mr. Sumit will be transferred to Pattaya police to be prosecuted under the law.