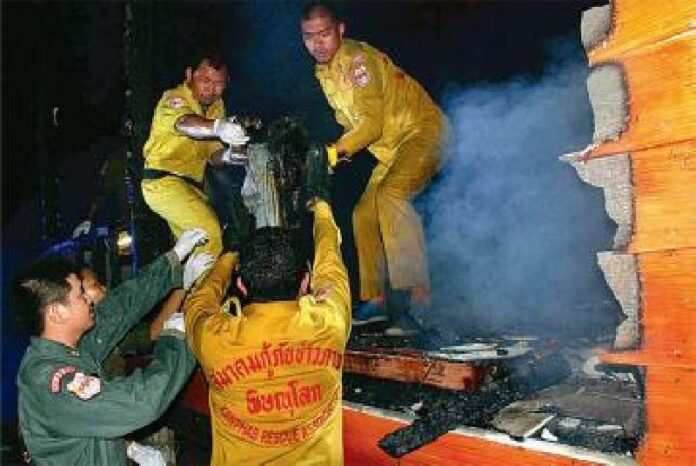 (22 May) Two children in Phitsanulok were killed in a house fire possibly caused by a candle they lit to provide some light in the house; their parents had failed to pay for electric bill.
The incident took place around 23.45 last night (21 May). Police and firefighters arrived at the scene to find a wooden house fully ablaze. The firefighters took 30 minutes to contain the fire.
Later, they found bodies of Sunpetch Polnok, 13, and Nutprapa Polnok, 9. The boy and the girl were reportedly burnt to death. Their bodies were tightly embracing each other.
Their mother, Ms.Chutikaan Polnok, cries painfully at the sight. She was injured after trying to enter the house to rescue her children where neighbors pulled her out. She said that she worked 200 meters from home at a barbecue restaurant, and that the electricity in her house was shut off recently because she did not pay the utility bill.
While at work, a neighbor ran to her to inform her of the fire. She immediately rushed home but it was too late. Ms. Chutikarn was later sent to Buddha Shinnarart hospital to treat her burn injuries.
Officers suspect the children lit a candle and fell asleep, and they candles may have caught fire to the sleeping net. The fact that the house was made of wood made the fire spread quicker.
The municipality provided 50,000 baht to the family for compensation. Additionally, the royal offices of HM the King and HM the Queen had sent some aid to the family as well.
Mr.Niwut Tummatikornchai, Provincial Electricity Authority manager of Mueang Phitsanulok branch, said that the electricity bill for the house was due on 2 May, which was not paid.
He said the incident greatly shocked and saddened him but the Authority cannot be held responsible for it since they have followed all necessary protocol.
Electricity customers in Phitsanulok is estimated at 250,000, with 15,000 late payments per month.