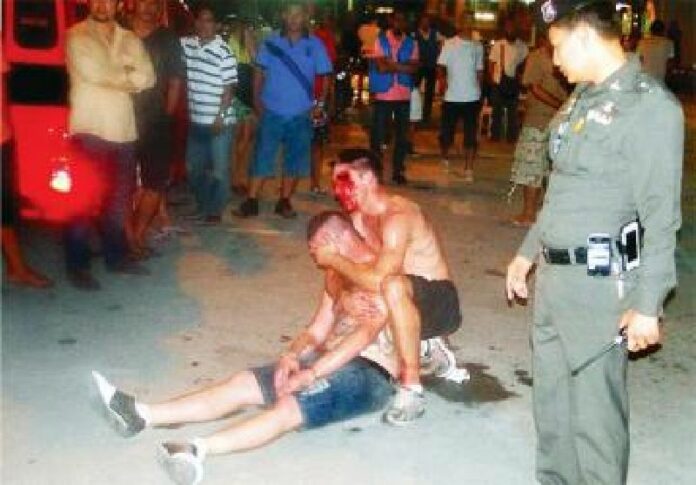 (23 May) 2 Australians were about to walk into a bar in Phuket but were refused entranced by a bouncer, then reportedly went on drunken rampage, attacking random people until group of locals and tourists took the matter into their own hands and beat up the 2 men.
Around 01.30 police received reports of foreign men being mobbed and injured by other tourists. At the scene they found shirtless foreign men in shorts and tennis shoes holding each other and covered in blood. Around them a group of tourists and locals look on.
The men were identified as Mr.Anthony Saoder, 26, and Mr.Brand Tube, 30. Both are identified as Australian nationals. Mr. Saoder's legs and his eye socket were broken, causing blood to run down his face. Meanwhile, Mr.John Henza, 28, an American, who was covered in blood with a broken brow bone, said he was attacked by the 2 Australians. The 3 men were sent to Patong hospital.
Investigations reveal that Mr. Saoder and Mr. Tube were visiting Thailand for the first time and had only arrived in Phuket that day. Before the incident, they were out on the town and the bouncer at Hollywood Discotheque would not let them in. A scuffle reportedly broke out and the two men retreated to the Kangaroo Restaurant across the street where they also picked fights with other people. Police believe Mr. Saoder and Mr. Tube were intoxicated at the time.
Witnesses said Mr. Henza, the American, was sitting with his girlfriend in Kangaroo restaurant when the 2 Australians hit him with ashtrays, and proceeded to attack other people in the restaurant with chairs, causing the patrons to flee in panic. A female Thai worker at the restaurant tried to break up the fight, but ended up getting injured herself.
According to witnesses, the 2 men later strolled down the road and attacked random people, both Thai and foreign, until the crowd could take no more and banded together to beat up the two men before calling the police.
Mr. Saoder and Mr. Tube have been charged with causing injury to others and committing drunken behavior in public. They are now being detained and are awaiting prosecution.