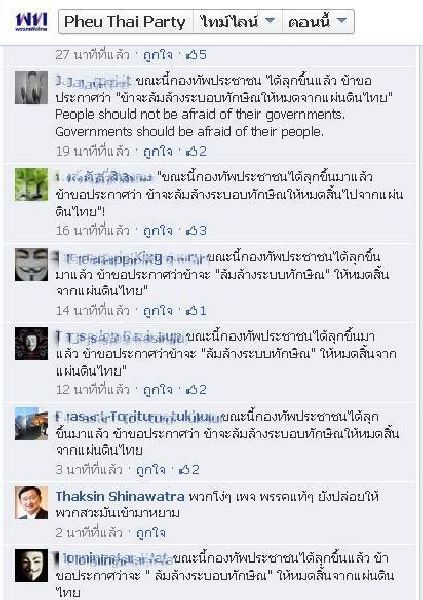 (27 May) Son of Former PM Thaksin Shinawatra denied news reports that Mr. Thaksin used his Facebook account to express his frustration with the anti-government Facebookers who spam government-related Facebook pages.
Mr. Panthongtae Shinawatra′s remark came after some media outlets reported images purported as screenshots of Thaksin′s Facebook account posting on Pheu Thai Party Facebook page. In it, the account named ?Thaksin Shinawatra? said You are dumb. How can you let these scums insult us on our Party Facebook page?\r
Today, Mr. Panthongtae said on his Facebook account that the screenshot was definitely fake. While Mr. Thaksin indeed had a Facebook account, Mr. Panthongtae said, the former prime minister has not logged in for 3-4 days now.
He added that Mr. Thaksin is now residing in the United Kingdom, having flown in from his residence in Dubai recently.
Mr. Panthongtae also derided the anti-government Facebookers who set the Guy Fawkes mask as their profile pictures, calling it a misinformed attempt to paint the current government as dictator.
Personally I don?t mind… In the past, I can?t tell from their profile pictures which sides they are on. But now I can find out within a single glance, Mr. Panthongtae wrote on his Facebook.