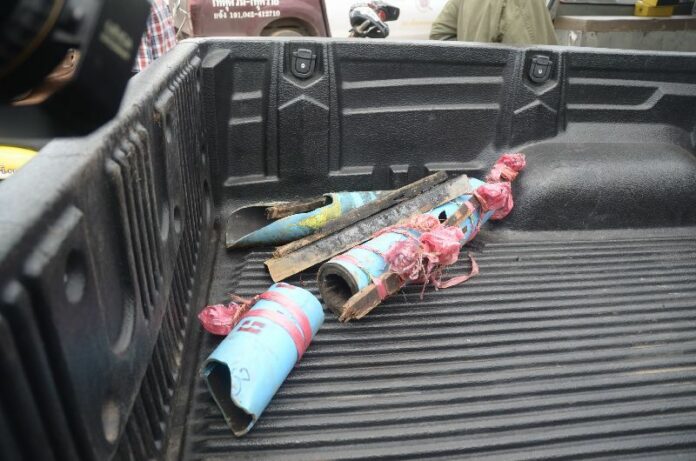 (27 May) The celebration of Sixth Lunar Month at a temple in Nong Khai province turned tragic when the homemade rocket, a part of the folk tradition, malfunctioned and killed 2 people in the car it landed on.
The incident took place in Nongtua field. A green Toyota car, with license plate ′กค 2142 Nong Khai′, was set on fire 100 meters from Taat Temple where the rocket was launched. The fire killed Ms. Sangiem Sontirat, 41, in her front seat, while the driver, Mr. Anuwat Sontirat, 47, was severely burned and died later at the hospital.
Investigations revealed that the Taat Templeand the Nong Khai municipality were holding a Sixth Lunar Month Fireballs ceremony,where rocket competition was held, with up to 250 projectiles scheduled to be lit between 25 May – June 19. The batch were lit from 09.00, 3 at a time.
The incident took place during the 5th set of rockets. Safety checks were done prior to the lighting of each rocket, officials said, but when one particular rocket made by Nong Plaifah Bringkan Team was lit,the ring directing the fireball's aim fell off and it was set of parallel to the ground at the same moment as Mr.Anuwat and Ms.Sangiem's car was just heading into the area.
The projectile hit the front door on the passenger side of the car and broke into two. The nitrate broke out of the rocket spread all over the car. As a result, sparks flew, igniting the deathtrap.
The event attendees tried to help the two victims. Mr.Anuwat was more than 50% burned and was sent to Nong Khai hospital where he later succumbed to his wounds, but Ms.Sangiem could not be retrieved from the car due to the car's safety system and she was burned to death in just a few moments.
Police have called in the event organisers along with the Mueang Nong Khai municipality for further questioning at Mueang Nong Khai police station on 27 May. The festival is also cancelled.
The rocket launching tradition stems from local tale about a king of earth who made a pact with the king of the heavens. The earthly king would send the rocket toward the sky when his kingdom needs water for its crops, and upon receiving the signal the heavenly king would make it rain.
However, these homemade rockets are notorious for their unsafe qualities and have killed people in the past years.