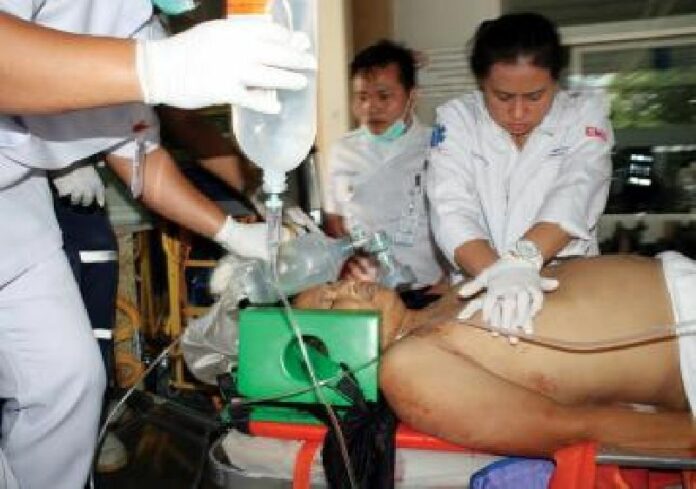 (28 May) Minister of Tourism plans to review the law to improve tourists' safety in Pattaya after a Banana Boat accident killed a Phitsanulok native there recently.
On 25 May, Mr. Pitak Adon, 36, a chauffeur for Japanese managers in the industrial estate, was hit by a Banana Boat tugboat "Suwandeechokechai 36" and sliced to death by the boat′s propellers near Jomtien beach, a short distance from Pattaya.
Mr.Atichai Boonjit, 22, the boat driver, was prosecuted on charges of negligent acts, causing the death of others.
Commenting on the incident, Mr.Somsak Purisrisak, Minister of Tourism and Sport, said he is very upset because similar incidents took place several times already, but nothing ever got improved.
There had been meetings on this subject after every accident, he said, and a workshop session has been held to prepare the staff and officers for problem solving and long term prevention. Yet, fatal incidents keep reoccuring.
I am very upset by the recurrence of tourist accidents which involved both Thai and foreign victims, Mr. Somsak told our correspondent, adding that Thailand needs to regain the trust of tourists in order to achieve the goal of 25 million tourists per year, which will create a 2 trillion baht income for the country.
Mr. Somsak stated that this must be declared as a national agenda, so that the responsibility would not be pushed away again. He said the matter will be discussed between the Ministry of Tourism and Sports, the Justice Department, and prosecutors to push for law amendment since the current laws are already obsolete.
The amendment of laws, for example, law of the Marine Department, if left to the process of the government, would take forever. I call on the Council of State, Ministry of Transport, and the Attorney General to help determine what is holding us back and amend it as soon as possible, instead of putting the issue in a list with other issues, which has proven to be so slow. These laws need to be rewritten fast, for example, motorcycle rental laws, insurance laws, temporary driving license laws. This needs to be done within 2 years, the Minister said.
In recent developments, Mueang Pattaya Police said the Banana Boat accident fully has the commander's attention. Mr. Atichai, the boat driver, claimed he did not see the man in the ocean and that the victim was already unconscious before the boat hit him. Police are still waiting autopsy results.
Mr. Ronkij Akesing, Deputy Mayor of Pattaya, informed police that the family of the deceased have asked for a 200,000 baht compensation, which will be negotiated with the boat owner. A meeting on the subject will take place at Mueang Pattaya police station soon.