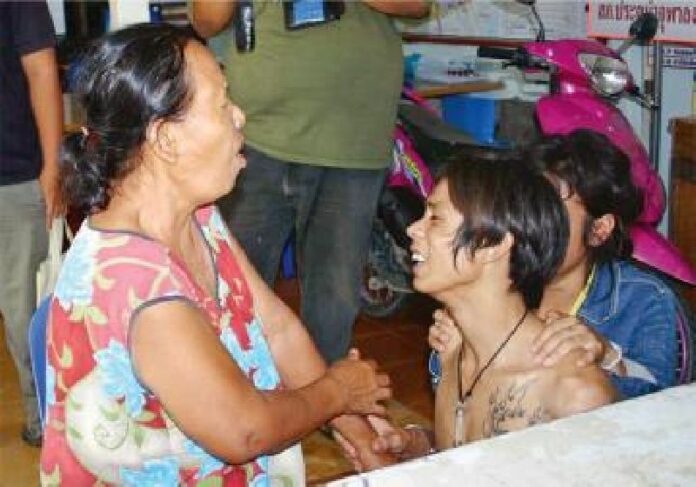 (27 May) Around 05.30 today Pratunam Chulalongkorn police station in Pathum Thani province received reports of a robbery at a grocery store in Soi Rangsit.
Ms. Lumyai Srimongkolpatum,
64, was left with a bruise after the robber tried to cut into her arm with a knife. She said that
she was opening up the shop as usual and a teenage boy came in to buy some cigarettes. She said the
man then told her to hand over all her cash, but she refused to do so, and the robber hit her arm
with a knife stroke.
Uninjured, she screamed Robber!, calling out to her son who was on
the upper floor of the store. The robber reportedly slashed the knife down at her arm again, but she
was not seriously harmed. When her son came out, the robber already sped away on
motorcycle.
The police searched for the culprit until 10.30 and found the motorcycle near Soi
Rangsit-Nakhonnayok 47. They arrested Mr.Tanakorn Kongchan, owner of the unlicensed red motorcycle
who reportedly confessed immediately.
When he arrived at the police station, the culprit sank
down to the floor and cried in front of Ms. Lumyai, who was present at the police station,
apologizing to her. The man admitted to trying to rob the old lady because he needed money to pay
off his debt before his motorcycle is taken away, and that he did not mean to hurt the lady in any
way.
He was charged with attempted robbery and assault and will be
prosecuted.