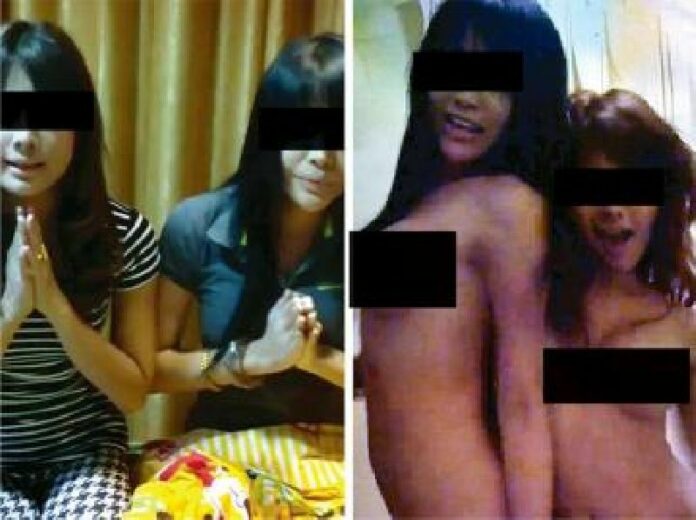 (26 May) The 2 Katoey who danced naked for a cover of the viral music video "Splash Out" (Feeling Tight In My Chest) have issued a public apology to transgender individuals in Thailand for giving them a bad reputation after the video became talk of the town and attracted attention from the police.
Previously, the 2 lady boys were dancing to the "Splash Out", popularised by singer Baitoey RSiam, and the video was posted the video on the internet (it is not clear who uploaded the clip), causing quite a stir. While many praise their beauty, other lady boys have reprimanded the pair for creating a bad impression of lady boys in the country.
The ICT – the Thai internet policing agency – said they were trying to block the video. The police said the video clearly violates the law since it constitutes as pornography, and the force will seek out the pair for legal prosecution.
Eventually, the 2 lady boys apologised. The 48-second video clip was filmed on the same bed of the infamous video which landed them in the limelight, but this time they were dressed conservatively. They ′wai′ the viewers throughout the clip, repeating their apologies.
One of the lady boy, who did not identify herself, said they felt guilty of their actions, explaining that they were not very conscious of their behaviour at the time. She also apologised to other lady boys who may have been hurt by the clip.
The other lady boy, who identified herself as "Nong (little sister) Ice", said they were being naïve. I know we deserve this reprimand, but please stop sharing the video because it is not a good thing to do, she said to the camera, stating that they took the video in private and did not want to become famous like this.
"Please let it end here. Thank you", Nong Ice said.
The apology clip has led to debates in the online community. Some viewers were supportive and some remain judgmental.
On the same day, Pol.Maj.Gen. Pisit Paoin, head of Crime Suppression Division′s agency that tackled technology crimes, said that since the lady boys have uploaded an apology clip, the media should also urge them to come in to the police station as well so the police can investigate the situation quickly.
If they will not come willingly, there will be a warrant issued, he warned.
Nonetheless, he said their identities and the identity of the person who uploaded the clip onto the internet are still unclear. Pol.Maj.Gen. Pisit said there will need to be further investigations. The police have collaborated with the ICT to determine the identities and to prevent the video from spreading any further, he said.