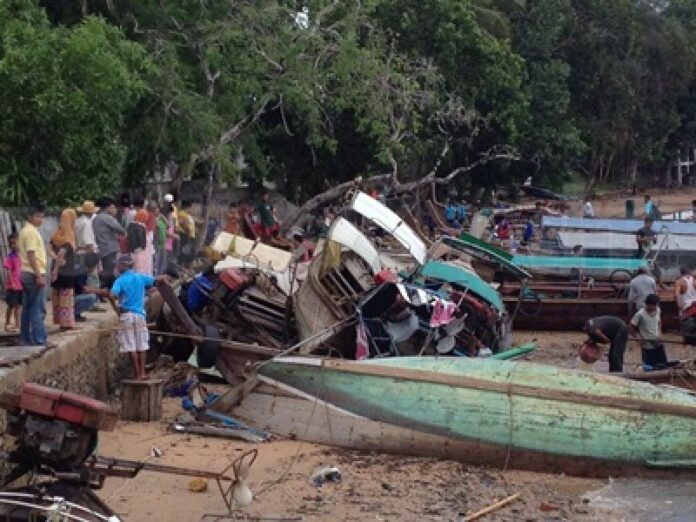 (26 May) Surges of high waves struck the sea just outside the coats of Krabi province today, damaging many boats moored along the shores and marooning over 100 tourists on small island.
The storm hit Krabi around 12.30 pm with 3-4 meter tidal waves. The surges damaged around 50 long-tailed boats anchored around Nam Mao Bay which is a popular anchor spot for boats ferrying tourists to visit the famous Ton Sai Bay, Phi Phi Islands, and Aow Nang Bay.
Witnesses said the storm lasted about 5 minutes and in some parts the waves were as high as 4 meters, and the sea was at high tide at the time. The waves hit the boats and broke some of them, with some motors floating out into the sea. The people on the boats could be seen running for their lives.
Mr. Weera Chaipattalung, 43, driver of taxi boat in Phi Phi Island said before the incident, there was the usual heavy storm, but all of a sudden a 3 meter wave hit the shore and caused so much damage.
Meanwhile, Krabi Coast Guards received reports of 10 tourist boats to Hong Island in Bokoranee National Park being damaged by the storm as well, stranding more than 100 tourists at the island. Officers have dispatched Gulf Patrol boats to the island and rescued the tourists.