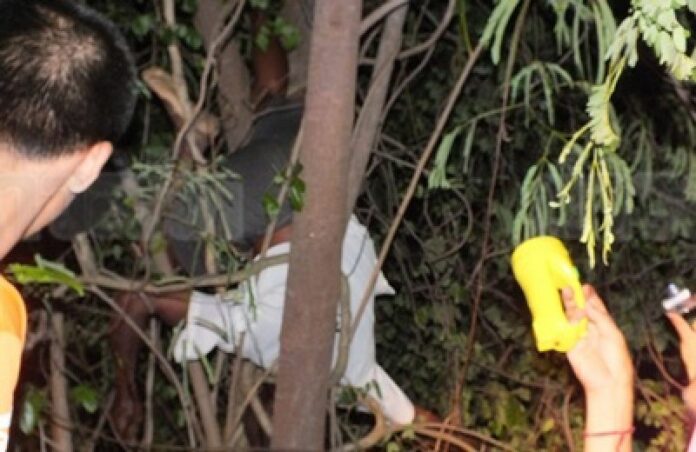 (4 June) Police in Nakorn
Ratchasima received reports about a dead body being found on a tree. Upon inspecting the scene, they
found the body of 60-70 year old man, wearing navy shorts and a t-shirt hung by the foot on the
tree beside the Pimai-Nongluang highway.
Rescue workers used an electric saw to cut the branches down, which took 15 minutes, and the
body was retrieved. Investigations revealed the deceased to be Mr.Pleng Kamolklang, 68, a
Nakorn Ratchasimalocal who was a dove enthusiast. On
the tree above the body was an empty birdcage.
Ms.Tunyaluck Rakmitr, 37, daughter of the
deceased, said that her father left the house early in the morning to catch some doves to enter the
local dove competition, and to sell to other bird collectors. He often leaves early and return
at 15.00, she said, but on the day of the incident, her father did not come home, so the
neighbors went out looking for him and found him hanging from the tree.
Police suspected that
he climbed up to position the cage to catch the bird as usual, but he slipped and fell and his head
got stuck between the branches, broke his neck, and died.