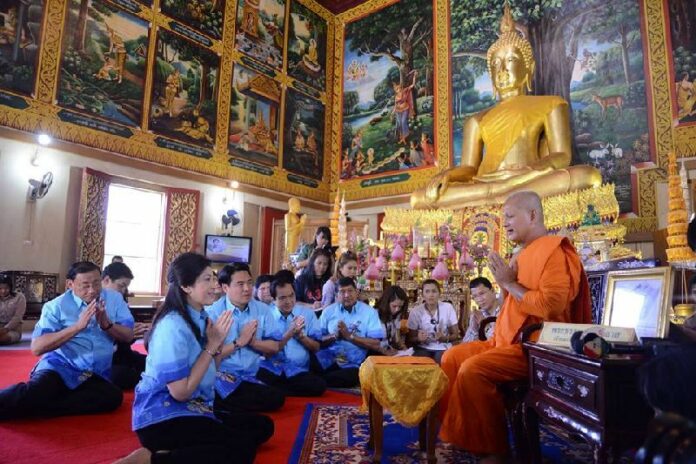 (10 June)
PM Yingluck Shinawatra visited a famous temple in Kamphaeng Phet province today with her cabinet
members as part of their tour in the province.
Ms. Yingluck arrived at the temple around
08.00, accompanied by high ranking officials and cabinet members. There, she prayed to Vajiraprakarn
Buddha statue and made ritual offerings to the residing monks. She also talked with Pra
Dharmapanapilas, high prelate of the province′s Buddhist chapter.
He suggested that the
government should focus on renovating historical sites in Kamphaeng Phet. He said that Chiang Mai
province has seen much renovation projects, too, partly because of the Prime Minister′s fame. He
proceeded to joke that Ms. Yingluck should continue to be famous so that her fame would help improve
his province, too.
After their conversation, Pra Dharmapanapilas gave blessing to the Prime Minister,
telling her that he wished she and her cabinet good health and happy mind, so that she could perform
tasks for the benefits of the country.

Additionally, the
prelate gave her a 9 inches replica of the Vajiraprakarn Buddha statue to help protect her
under peace and calmness.