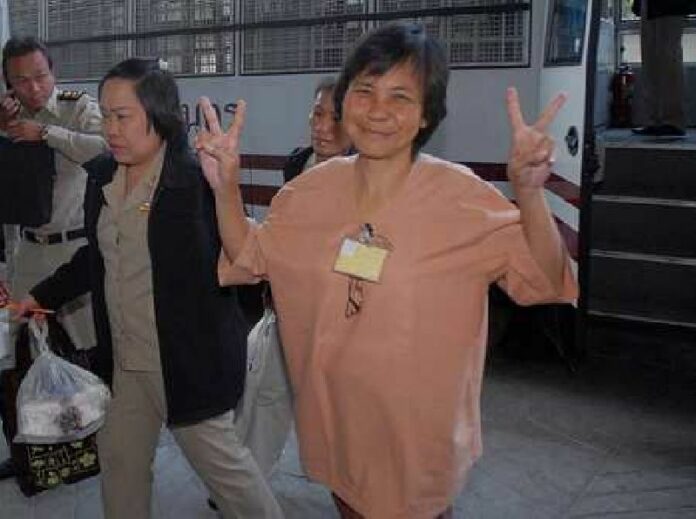 (12 June) The Appeals
Court in Bangkok today reaffirms the 15 year jail sentence handed down by Criminal Court to the
former activist convicted of insulting the monarchy.

Ms. Daranee
Charncherngsilpakul, 55, is a former activist who campaigned against the 2006 military coup. She was
known by her supporters for her aggressive language on stage, hence her nickname ?Da Torpedo?.
Although she is generally described in the media as member of Redshirts, Ms. Daranee had
been active in the field even before the formation of the Redshirts? organization, National United
Front of Democracy Against Dictatorship (UDD).
She was arrested in 2008 for the speeches she
made in January-June that year during the series of rallies held at Sanam Luang (Royal Field) in
front of the Grand Palace in Bangkok. The authorities say the speeches were insulting toward the
monarchy, and the Criminal Court agreed with the allegation, saying that she intended to sabotage
the people′s loyalty to His Majesty the King.
The Court sentenced her to 15 years in jail in
December 2011, but Ms. Daranee had already been imprisoned for years before the ruling.
Explaining their rejection of her appeal today, the Appeals Court judges said her actions
has caused harm to the majesty of the monarchy, we must therefore punish [Ms. Daranee] severely to
discourage similar actions from other people.
Ms. Daranee told reporters after the ruling
that she has been in jail for 5 years but no leader of the UDD has ever come to visit her. Only Ms.
Suda Rangkupan, leader of the more progressive wing of the Redshirts, has visited her, Ms. Daranee
said.
I?m not sure if I would still fight alongside the UDD after I?m released from jail,
Ms. Daranee said.