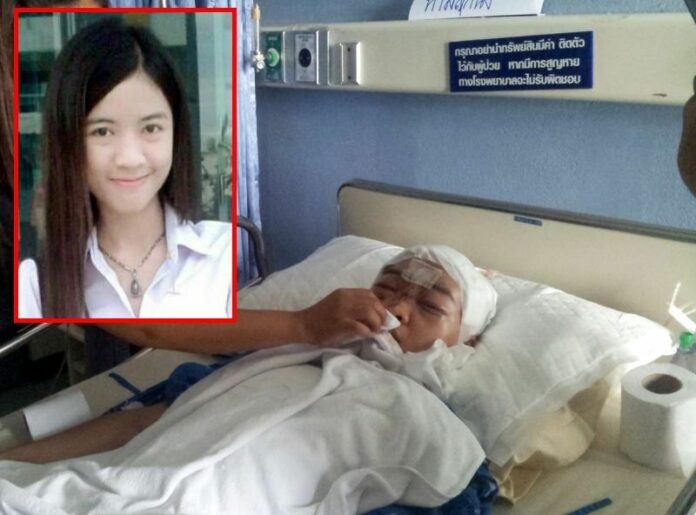 (11 June) A freshman student at Kasetsart University was injured after an assailant reportedly threw a brick into her car as it sped on the highway in Nakorn Pathom province.
Ms. Jenjira Thongchai, 18, was riding in the front seat of her boyfriend′s pickup truck around 20.00 when an unknown assailant on the roadside threw a large brick, estimated to weigh around 2 kg., at the car′s front windshield, according to her mother Ms. Prapai Thongchai.
Aided by the speed of the oncoming car, the rock smashed through the window and hit Ms. Jenjira in her face, causing massive injuries, Ms. Prapai said. Ms. Jenjira is currently staying at Sanamchan hospital. Her head′s wound was so grave that the doctors had to shave her head, and she is advised to stay in bed lest the wound is disturbed.
Ms. Prapai said she has already contacted the police, but the investigation is very diffilcult because the crime scene was dark at the time and no CCTV is installed nearby.
She said she′s worried about her daughter′s future because it is not clear how much she would recover from her injuries. She urged the police to solve this case seriously in order to prevent other people from falling victims to similar crimes.
′Stone-throwing gangs′ (Thai: gang pa hin แก๊งปาหิน ) are known to terrorize motorists on inter-provincial highways, especially around Bangkok suburb, with some cases involving deadly casualties. The suspects in these crimes are mostly youngsters who said they did it "just for fun".