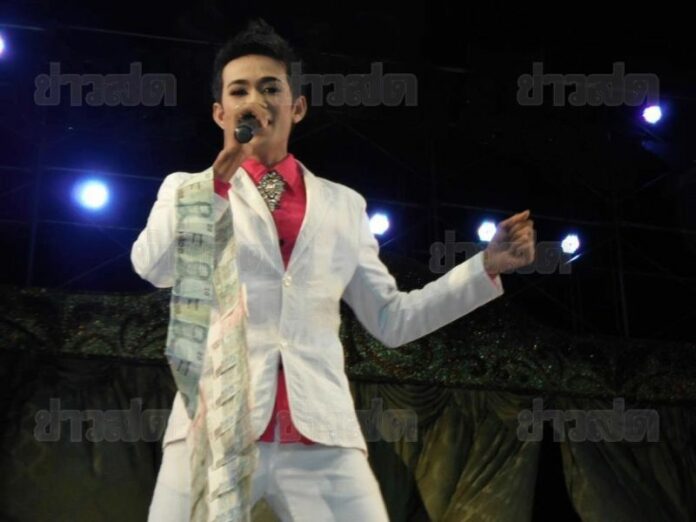 (Kon Kaen) Police agents living double lives are common theme in crime thrillers. The 29-year old Police Lance Corporal Wiwat Chantamom of Kon Kaen provincial police is one of those cops.
His other life is far from the grim pictures depicted in those thrillers, however. LCpl. Wiwat fights the villain to save the damsel in distress, he sits in the lofty palace hall and preached about moral of good triumphing over evil, he dances and sings the poetic rhythm.
In short, he is a part-time leading performer of the folk play troupe called Likay (ลิเก).
Before the lights and sounds of modern cinemas, Likay was one of the core entertainments available to Thais, especially in the countryside. A typical Likay show involves plays on colorful stage with stories set in ancient or literary kingdoms. The players speak and sing in poems, while much traditional dancing and slapstick humor are employed.
Likay is an increasingly rare sight in present-days Thailand, though there are still active Likay companies performing in rural and suburban temple grounds.
Stars of Likay, namely the Phra Ek (male protagonist) and Nang Ek (female protagonist), command fervent fans. Usually these fans are wealthy elderly women who would crowd in the front seats, cheering their favoritePhra Ek and putting necklace made of banknotes (20 baht or 100 baht bills, depending on how rich the fans are) on his neck at the end of the show.
LCpl. Wiwat is one such Phra Ek. When he is free from his police routine works, he performs with Kumpun Ruam Mit Likay company, which combined the arts of Likay with Northeastern folk music performance calledMor Lum (normally, Likay and Morlum are separate arts). LCpl. Wiwat is talented in both Likay dancing and Mor Lum singing. He also performs country songs from time to time.
He said that at the start of each performance season, the company leader will present him with show schedules and he will pick the days that he is free from police duty, usually on weekends.
Asked about his main reason for the double life, LCpl. Wiwat cited the need to make extra money for his family. He is currently married, and his first daughter is 4 month old. They are living in state-owned flats available for police officers′ families.
The half cop half Phra Ek said he earned 1,000 baht for each show, not counting tips from his stage-front fans. He told our correspondent he once earned 20,000 baht on a single night from the banknotes necklace given to him by such fans.
Apart taking care of his family, LCpl. Wiwat said he is also very passionate about folk music and Mor Lum.
His interest in Mor Lum started when he was in elementary school in Kon Kaen province. A Mor Lum band was playing next to his school, so he asked the band leader to teach him the arts. In his secondary school years, he joined a folk music instrumental band and took up singing Mor Lum as well.
After he won school singing contest, he recalled, his teacher took him to learn the professional singing from a Mor Lum band. His professional life as a Mor Lum singer and Li Kay star started there.
"I won the exam into police academy after I did my university degree, but I never left behind my Mor Lum profession," LCpl. Wiwat said.
Pol.Col. Kanit Duanghasadee, vice commander of Kon Kaen provincial police, said he felt very proud to know that his subordinate has helped preserve local Thai culture and in the meantime never failed in his police duty.
He said when his police force has to organize banquets on important days, LCpl. Wiwat is always invited on the stage and awe the audience with his music skill.
Pol.Col. Kanit also told our correspondent that he aimed to assign LCpl. Wiwat to head Kon Kaen police′s public relation unit because of his familiarity with the common folk.