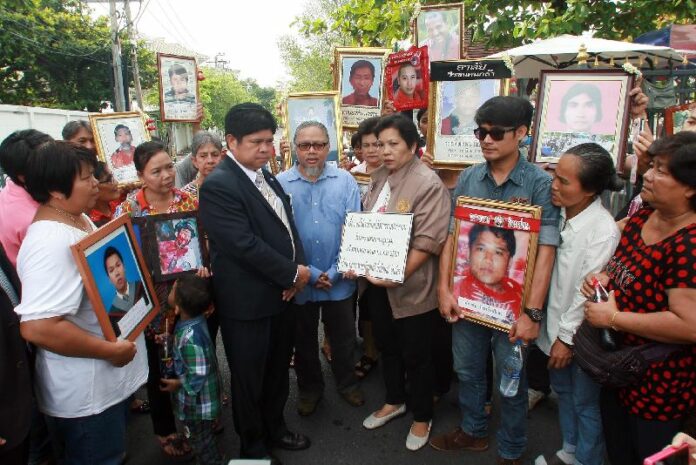 BANGKOK — The family members of 20 people killed in the military crackdown on Redshirt protesters in April-May 2010 gathered in front of the Government House in central Bangkok today to voice opposition to a bill that would grant amnesty to those responsible for the operation.
The violence in those two months claimed more than 90 lives, including protesters, security forces personnel, journalists, rescue workers, and civilian bystanders.
Today's group was led by Ms. Payao Akhard, the mother of a volunteer nurse who was shot dead while tending to the wounded in Pathum Wanararm Temple on 19 May 2010, and Mr. Pansak Srithep, father of a high school student who killed while he was observing the protests on 15 May 2010.
Ms. Payao said she was disappointed to see 163 MPs of the ruling Pheu Thai Party support the draft of a bill that would absolve all involved in the political violence, including the authorities at the time.
She also expressed concern about the lack of oppostion to the bill among Redshirts or members of Prime Minister Yingluck Shinawatra's Redshirt-backed government.
"I have to stand up and ask for justice from Ms. Yingluck because she told the BBC in her early days in office that she wants to find out the truth about the crackdown and punish those who gave the orders," Ms. Payao said.
Ms. Payao's group also urged the government to release prisoners being held for their involvement in the 2010 protests.
The crowd dispersed peacefully after giving a letter of protest to Mr. Supon Attawong, vice secretary of Prime Minister′s Office and a former Redshirts leader.