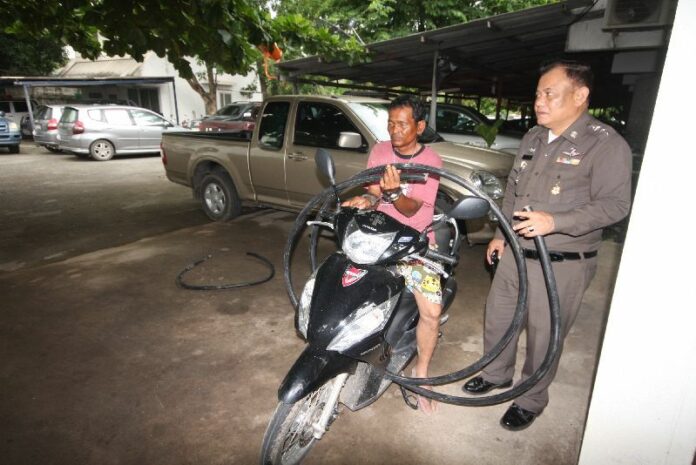 (13 June) A policeman
with heart disease almost died after he gave chase to the man who stole telephone cables in
Ayutthaya province.
Pol.Sen.Sgt.Maj.
Damrong
Tahuaykaew, 46, was manning the checkpoint on Uthai-Pachi Road with other police officers when Mr.
Sompon Saeku, 48, drove a motorcycle toward the checkpoint without wearing safety helmet.
Sgt.Maj. Damrong directed Mr. Sompon to stop his motorcycle and wait as he signed the fine
order. Then, he spotted large telephone pole cable stowed on the motorcycle, so he inquired Mr.
Sompon about it, but Mr. Sompon quickly ran away. Sgt. Maj. Damrong chased him down until he managed
to arrest the suspect.
However, just as he arrived at the police
station with the suspect, Sgt.Maj. Damrong fainted. Other police officers had to bring him to Uthai
hospital. His heart stopped as he arrived in hospital, but the doctors managed to bring him back
within 5 minutes.
Nonetheless the doctors say his condition is severe, and he was transferred
to the provincial hospital.
Meanwhile, the suspect confessed he stole the cables
from a nearby construction site, in hope that he could sell the material for
money.

Pol.Col. Puwadit Chanakotpatri, vice commander of Ayutthaya police,
said that Sgt.Maj. Damrong is known to have heart disease and he had electric heart pacer installed
recently. He said Sgt.Maj. Damrong is hardworking policeman and he must have forgot about his heart
condition when he decided to chase down the suspect.