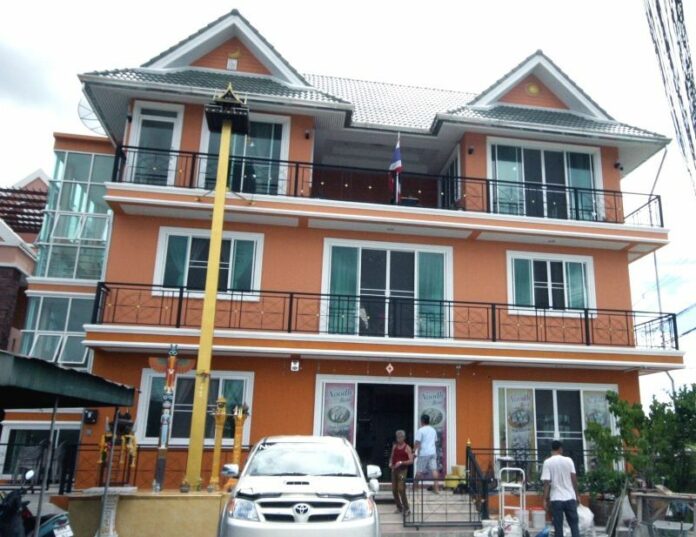 (14
June) For Ms. Laksana Ekkatin, the glory should always be in the highest.
That is what was on
her mind when she ordered the construction of her 3-storey house in Sena district of Ayutthaya
province, Ms. Laksana told our correspondent, so she decided to erect 10 meter tall Spirit House to
hallow it.
Spirit House is a common sight in Thailand. Almost every residence, shop, office
building, and even governmental agency places it in front of their building, as Thais believe that
every place is inhabited by spirits so they should build a separate housing for those supernatural
entities as well.
However, a typical Spirit House is only few meter tall. Ms. Laksana, 57,
said she did not want to go along with the tradition because she felt it inappropriate to force the
spirits to live below her family′s abodes. Ms. Laksana′s choice echoes common Thai idea of
altitude: heads are to be respected, feet are reserved for making rude gesture.
Ms. Laksana
told our correspondent the workers constructed the tall Spirit House by placing the house figurine
(made of the expensive teak wood, she said) onto an electric cable pole painted with golden color.
She said the Spirit House costs her 70,000 baht, but insists that the price is worth it because her
career has been successful and her family living in peace ever since the Spirit House was
installed.
She said the house used to be a 2-storey wooden structure, but after the Great
Flood in 2011, she decided to renovate the damaged house completely. She said nowadays her family
can give offering and pray to the Spirit House on the 3rd floor balcony.
I think it must be
the tallest Spirit House in the world, Ms. Laksana said, I have not seen such thing anywhere
else.