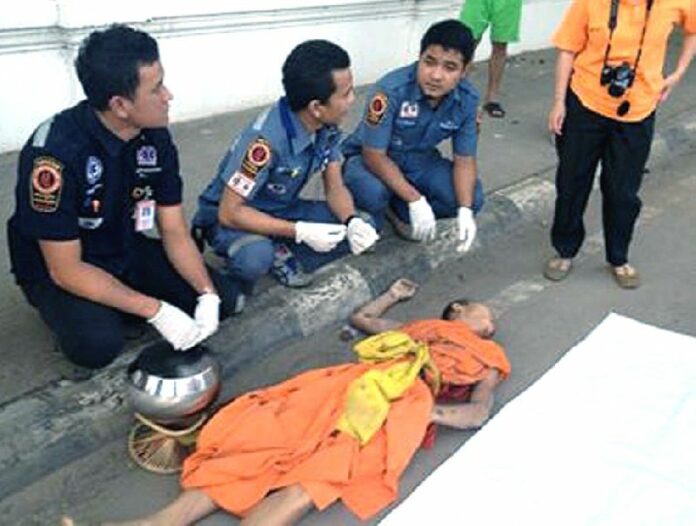 (14 June) 14-year old school boy ordained as temple novice has been hit and killed by a car in Kon Kaen province today.

The incident took place in front of Nong Waeng Temple in the town center. Witnesses said that the novice, identified as Nattawut Murichan, was walking out of the temple for the morning walk around the community to receive food donation from locals when a white car was driving toward the temple. Seeing the novice, the driver slowed down and parked on the right lane so the boy could cross the road.
Suddenly, witnesses told police, a black car with license plate กธ-5455 was speeding from behind the white car. It is understood that the driver did not see the novice who was crossing the road in front of the white car ad attempted to overtake it by the left lane, but ended up hitting Nattawut directly.
The novice was dragged under the wheel for 100 meter, according to witnesses, and the car quickly sped away, leaving the crowd in front of the temple in shock.
After checking the car plate with the database, the police visited the owner at the residence 1 kilometer away from the crime scene. The owner said her son drove the car out on the night before and returned it to the house only this morning, then disappeared. Police are searching for the suspect.
The director of the Nong Waeng Temple′s school said Nattawut was studying at the temple because his family is poor.