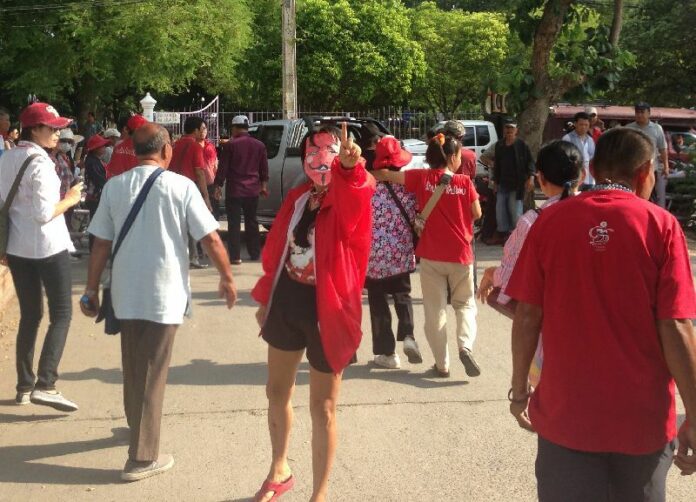 (14 June) Fistfights
broke out when Redshirts protesters in Chiang Mai province clashed with anti-goverment activists
wearing Guy Fawkes masks.

Earlier, around 20 members of the
so-called ?White Mask? group was gathering in a restaurant opposite to Chiang Mai University′s
Health Garden. They said they were there to campaign against ?Thaksin Regime?, referring to Former
PM Thaksin Shinawatra. His sister Ms. Yingluck Shinawatra is the current Prime Minister.
Hearing news of their gathering, approximately 200 Redshirts arrived at the garden, bringing
vehicles mounted with loudspeakers. Some wore red masks to mock the anti-government activists. The Redshirts were led by Love Chiang Mai ?51 Group, who said they were there to
observe the gathering peacefully.
Tensions rose when a White Mask protester approached
the Redshirts to take pictures of them, causing some of the Redshirts to rush toward the individual
and shout insults at the lone protester. Around 10 police officers intervened and confrontation
quickly subsided.
Mr. Worawut Rutjanapinan, leader of the Love Chiang Mai ?51 Group group, said the ?White Mask? protesters are
in fact the same Yellowshirts who had campaigned against Former PM Thaksin.
We were here
just to find out what they campaign about, but they provoked us. One of them took pictures of us, so
some Redshirts are angered, Mr. Worawut said. He vowed that his group would stage counter-protest
wherever the White Mask group appears in order to observe them.
Later at 17.00, our
correspondent reported, around 20 more members of the anti-government group approached the garden
via Nimanhemin Road wearing Guy Fawkes mask and holding banners and other placards. They halted in
front of Hill Side Condominium 2 building and displayed a banner that reads: Overthrow the Thaksin
Regime.
Seeing the group, the Redshirts in the garden quickly moved upon the White Mask
protesters. Some seized banners from the anti-government protesters. Some Redshirts were seen
throwing eggs at their political rivals. Fireworks were also thrown. The White Mask protesters
quickly fled the scene, and the police officers charged in to separate the 2 groups from each
other.
The anti-government group dispersed shortly afterwards. No injury was reported.