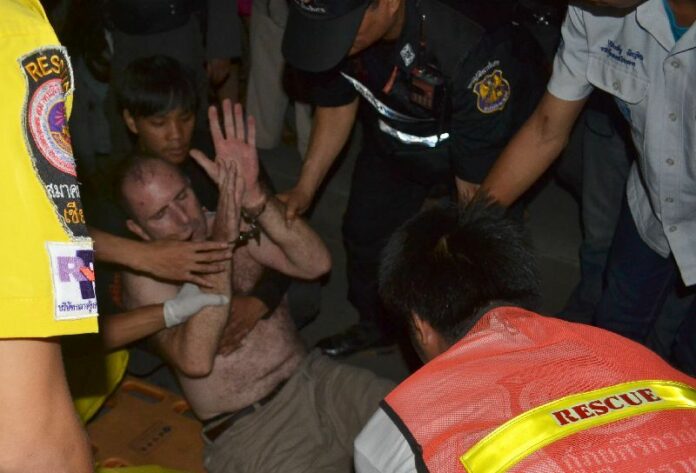 (16 June)
Police and rescue workers in Chiang Rai province have detained a British man who said he wanted to
kill himself with a knife.
The incident took place near a bar called ?Pepper? in Chiang Rai′s
town center. When police arrived at the bar after hearing reports about a ?mad foreigner?, Mr.
Richard Mark, 51, was locking himself in the bedroom behind the bar, holding a kitchen knife and
claiming he would kill himself. Patrons of the bar were standing anxiously outside.
Ms.
Pattaramon Pakaranitichote, 38, identified herself as ex-wife of Mr. Mark. She said she had been
knocking on the room door for hours but Mr. Mark would not come out. Police and rescue workers then
pried out the window and the door slowly, and brought the ex-wife and his friend to negotiate with
him, but Mr. Mark still would not yield.
The Briton was becoming very visibly angry, so the
police decided to charge and disarm him. Mr. Mark, unharmed, was brought to the police station.
Ms. Pattaramon told police she divorced Mr. Mark few months ago. She said when she was
married to him they had opened a bar together, but after few months she realized Mr. Mark had an
uncontrollable anger. According to Ms. Pattaramon, Mr. Mark had once set fires to his car and his
house, so she filed for divorce.
Earlier today, Ms. Pattaramon said, Mr. Mark arrived to see
her at the bar. He was heavily drunk, she added. At the bar, he snatched a kitchen knife, claimed he
would kill himself, and ran to lock himself in the room for very long time. She eventually called
police.