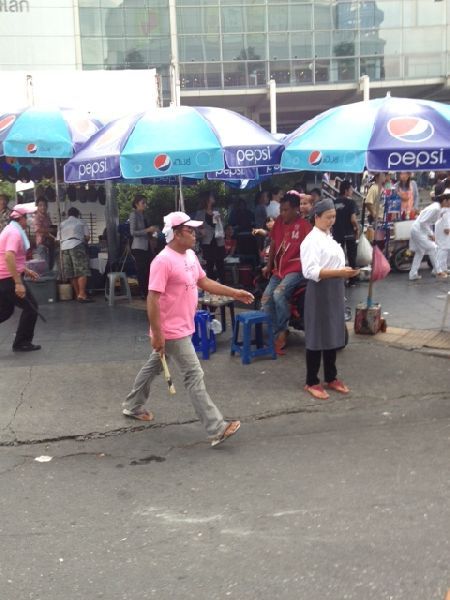 (16
June) Rival political rallies by anti-government protesters wearing ?Guy Fawkes? masks and
pro-government Redshirts in central Bangkok came close to violence after a group of so-called White
Masks used makeshift weapons to chase down a few Redshirts passing their way.
Hundreds of the
White Masks were gathering in front of Central World shopping to voice their opposition to the
government of PM Yingluck Shinwatra. They said Ms. Yingluck served as proxy for her brother Former
PM Thaksin Shinawatra who was ousted by military coup in 2006. According to the protesters, Mr.
Thaksin was a corrupt tyrant, while many also accuse him of secretly harboring anti-monarchy
sentiments.
Just opposite Central World, scores of Redshirts were holding a rally of their
own around Ratchaprasong Intersection sign – the site of their mass protests in April-May 2010 – to
show support for the government. A number of police were deployed to keep the 2 rival groups
separated.
Nonetheless, tension flared up around 14.00 when a member of the guards team of
the anti-government activists received message from his radio that 3 Redshirts on 2 motorcycles were
headed from Ratchaprasong toward Pratunam.
On hearing the report, he and other guards
produced iron bars and wooden bats from their bags, and ran toward the oncoming Redshirts
motorcyclists. They managed to hit the motorcyclists a few times before the police rushed in to hold
back the guards and make way for the Redshirts to escape into an alley next to Big C department
store. No injury has been reported.
Seeing that their targets were gone, the
anti-government guards slid their weapons into their bags and rejoined the protest. One of them was
heard saying that he regretted not being able to draw a Redshirt′s blood from his head today.
Although some media described the Guy Fawkes crowd as a spontaneous movement by citizens
discontented with the government, or as a new face to Thai political scene, their royalist and
anti-Thaksin rhetoric bears heavy resemblance to much of Yellowshirts movement that has been
campaigning against Thaksin camp for years under many guises.
Our correspondent adds that
many of the White Masks protesters today appear to be organized to some degree, with many protesters
wearing same shirts and arriving at the protest site together.