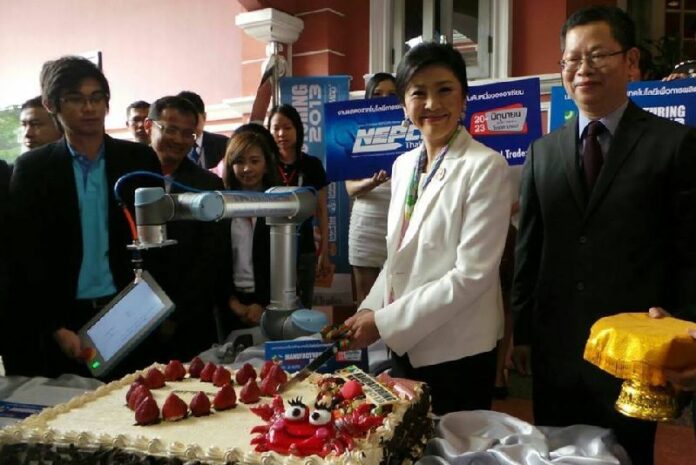 (18 June)
PM Yingluck Shinawatra was treated to birthday cake 3 days ahead of her upcoming birthday
anniversary, with some assistance from a robot.
As she toured science projects held at the
Government House today, Ms. Yingluck encountered a 50 pound birthday cake topped by jelly that
resembled a red crab – a reference to her nickname (Puu Daeng or Red Crab).
A robotic
arm, an innovation by Reed Tradex Company that was being displayed alongside other science projects,
was waiting for Ms. Yingluck next to the cake. It proceeded to demonstrate its ability by cutting
the cake for the Prime Minister, while someone brought out a violin and played ?Happy Birthday? for
Ms. Yingluck, who would turn 46 this 21 June.
Visibly pleased by the show, the smiling Ms.
Yingluck cut out some cakes, talked with the staff, and left for the Cabinet meeting. On the way
out, she told the crowd of reporters, hat′s some surprise!
Earlier, Ms. Yingluck was also
expressing her interest at an exhibition, organized by Ministry of Science, which promised a
technology that would help prolong freshness of fruits and vegetables by 2-5 times. The exhibition
says the technology will greatly improve the quality of Thai fresh food
exports.