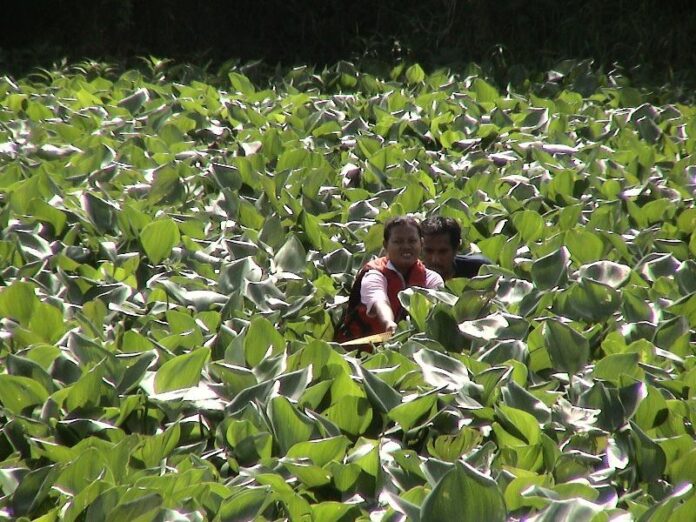 (20 June) Rescue workers
in Pathumthani province retrieved a woman who had been entangled in the thick swarm of water
hyacinth for more than 2 hours.
When police and volunteer rescue team arrived at the canal in
front of Sadet Temple, they found Ms. Ladda Srinab, 33, stranded on her boat in the midst of
the canal covered by the water plants. She was approximately 500 meter away from the canal bank,
where large crowds of onlookers stood by anxiously.
Ms. Ladda was
shouting for help, saying that she had been under the sun for a long time and was on the verge of
fainting. The rescue workers dispatched a boat and successfully brought her to the bank. She quickly
emptied bottles of water given to her by the workers.
Ms. Ladda, who works as a grilled
chicken vendor, told police she rows her boat to pick up her sister who lives on the other side of
the canal every morning so they can run the shop together. However, today the sheets of water
hyacinth are thicker than usual, she said.
Eventually she was caught in the plants and could
not row her boat any further. After many attempts to free her boat, she shouted for help from
locals, who in turned called the police. Ms. Ladda added that local authorities should root out
these water hyacinth lest another case might happen in the future.
Water hyacinth is very common sight in rivers and canal throughout
Thailand.