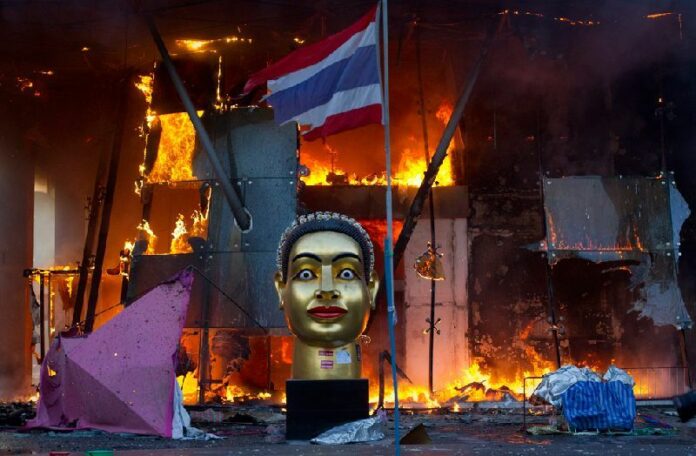 (21
June) Attorney of the Criminal Court is appealing the verdict which acquitted 2 Redshirts protesters
previously accused of assisting the arson attack on Central World shopping mall in central Bangkok
in 2010.
Parts of Central World (CTW) was burned down in the final day of Redshirts mass
protests which had been occupying Bangkok′s financial district until they were brought down by
military operation on 19 May 2010.
The case is a deeply political one. The government of the
time, along with the Democrat Party and the Yellowshirts, accused Redshirts protesters as
errorists who set fire to the mall and other buildings as retaliation against the crackdown. The
Redshirts denied any involvement, and insisted that the mall was burned down by hird hand party
that attempted to place the blame on Redshirts.
The court ruling in March 2013 which had not
only acquitted Mr. Saichol Paebua, 31, and Mr. Pinit Channarong, 29, but also set them free from
their imprisonment, was a blow against the anti-Redshirts factions who have been using the CTW case
as an example of the Redshirts? alleged plan to ?Burn Down The City? (Phao Baan Phao
Muang).
Now, as the attorney is appealing the said verdict, Mr. Pinit said he hoped the
attorney will give them fiarness. He said he had not considered plan to sue the prosecutor in his
case for wrongly accusing him, since he is preparing to ordain as a monk for 29 days – the number of
his age – to make good karma for his parents.
Nonetheless, he said he still felt anger for
those who accused him of ?burning down the city? and caused him to be imprisoned for almost 3 years.
He hoped that the 20 remaining Redshirts who are still imprisoned for their alleged crimes during
the 2010 protests would be free soon.
Mr. Saichol – the other former suspect in the case –
said he was already starting his new life by investing the money donated to him by other Redshirts
during his imprisonment on a clothes shop in Samutprakarn province with his girlfriend. Prior to his
arrest, Mr. Saichol was virtually homeless and living off the grid around Bangkok′s Sanam
Luang.
Mr. Arkom Rattanapojanart, lawyer who represents Mr. Saichol and Mr. Pinit,
said that he′s confident the attorney would have no sufficient evidence to back their
appeals.
I still don?t even know why Mr. Pinit was charged in the first place. The witnesses
said they did not recall seeing him burn the shopping mall. Mr. Pinit and Mr. Saichol did not even
know each other prior to the court case, Mr. Arkom said.