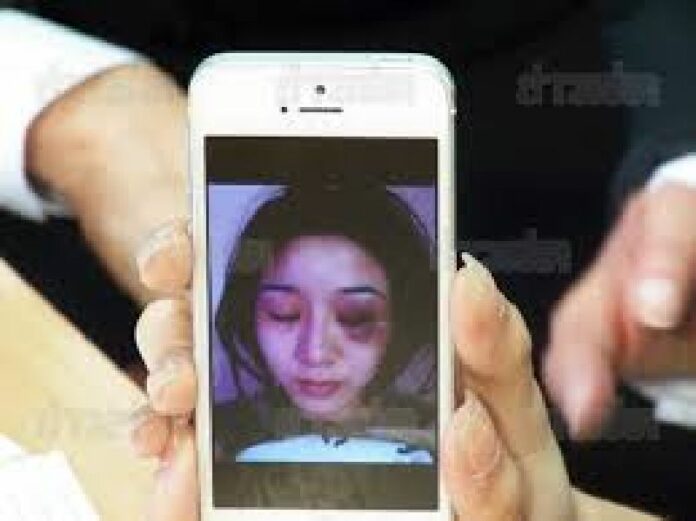 (21 June) The son of a famous businessman widely known for his underground influence admitted he had indeed physically assaulted his ex-girlfriend who sought help from police about the abuse, but added that he is considering a lawsuit against her for tarnishing his reputation by speaking out.
Previously, a 21 year old woman, who had not disclosed her real name, appeared alongside a representative from a women protection foundation in a press conference detailing the physical abuses that she allegedly suffered during her relationship with Mr. Boonyasit Thammarojpinit, the son of Mr. Pairat Thammarojpinit aka Por Pratunam.
The woman, who gave her name simply as Ploy, said she was beaten and detained by Mr. Boonyasit when he was in bad mood. She said she would file charge against Mr. Boonyasit for intimidation and physical assault, and had sought help from police because she feared reprisals from Mr. Boonyasit. The police had suggested that Ms. Ploy might be placed under a protection program.
Today, Mr. Boonyasit said in press conference, held at PJ Hotel in Bangkok′s Pratunam district, that Ms. Ploy moved in to live with him since 2010, and Ms.
Ploy was 18 at the time. He admitted that they had engaged in many fights and verbal arguments during their relationship, which he claimed are normal for couples.
He said the pictures of her injuries shown by Ms. Ploy to the press few days ago were the incident that happened years ago. Mr. Boonyasit told the reporters that he hit Ms. Ploy because he caught her talking to someone else.
He insisted that he resorted to violence because he loved her very much and wanted to stop her flirtatious behavior.
The incident happened years ago. I don?t understand why she told the police that I did it to her last month. I have not hurt her at all since the beginning of this year, Mr. Boonyasit was quoted as saying.
Mr. Boonyasit claimed that Ms. Ploy liked to make a scene to gain attention to herself. According to Mr. Boonyasit, she had cut her wrist and run away from home for a few times when they got in fights.

He said he is willing to forgive Ms. Ploy and end all the troubles. He said he still loves and has good feelings for her, and he had hard time understanding why she defamed him by pressing charges against him.
He expressed his intention to press charge of his own against Ms. Ploy on the ground of defamation.
"When the news came out, I didn?t know who to turn my face to. The society has branded me as a psychotic and cruel man. If all these allegations were true, I?d have accepted it. But since they are false, I?ll seek fairness … I have assigned my lawyer to proceed with the lawsuit," Mr. Boonyasit said, before adding that he felt terrible to be involved in a lawsuit with someone he had loved for 3 years.
Mr. Pairat, Mr. Boonyasit′s father, is nicknamed ?Puu Gwang Kwang? (literally, a big and large person) – a Thai equivalent of ?mafioso? – by Bangkokians. Mr. Pairat, who is commonly known as Por Pratunam due to his influence in Pratunam district, is alleged to maintain vast underground businesses and have cultivated support among many officials.
Meanwhile, The Nation reports that domestic violence in Thailand has risen sharply throughout 2012. In that year, 30.8% of Thai households reported abuse.