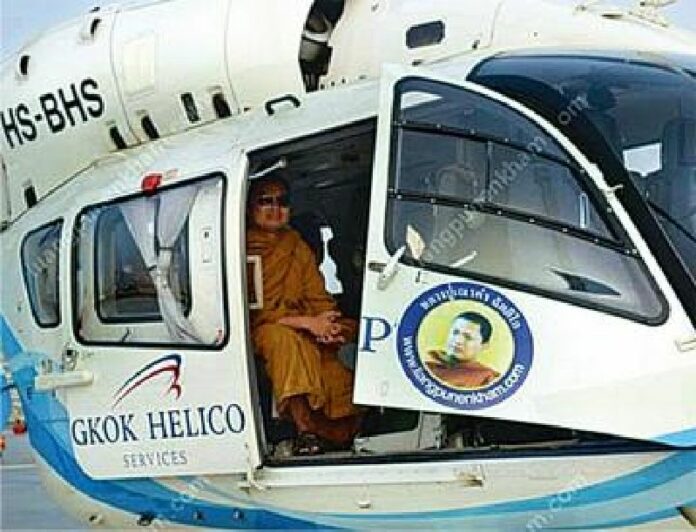 (21 June) Spiritual followers of a
controversial monk defend his lavish lifestyle which hit headlines around the world, even as
torrents of public criticism continue to mount against him.
Luang Puu
(Elder/Grandfather Monk) Nen Kam Chattigo, whose temple is based in Sisaket province, was seen on
various images and videos riding a camel in his trip to Egypt, showing off a Mercedes Benz, smiling
from his seat in a helicopter, and relaxing with an iPhone and Luis Vuitton bag on his private jet
plane.
But the image which seems to touch off the nerve of the public the most is the one
that appears to show Luang Nen Kam sleeping next to a girl. Both were presumed to be naked. The
Office of National Buddhism has previously called for investigation into the matters, calling his
actions damaging to the faith of Buddhists, since Buddhist monks were supposed to lead a humble
life.
Although his title suggests that he is an aged monk, Luang Nen Kam is believed to be in
his late 30s. His followers said that the title of Luang Pu denotes the years he had lived in his
previous lives.
The monk himself has not spoken to the public since the issue surfaced. His
temple staff said he′s currently on a trip in Europe and will be back in Thailand soon. It is not
clear which country he is traveling at the moment.
In the meantime, his spiritual supporters
– which are believe to be numerous and include many influential businessmen and bureaucrats – are
rallying behind him. Yesterday (20 June) a group of such supporters, led by Mr. Pattaradech
Sopanpanich, hosted a press conference in Nonthaburi province to tell their side of the story. The
conference was attended by more than 100 followers of Luang Pu Nen Kam.
Mr. Pattaradech said
that the media attack on Luang Pu is unfair, saying that he did not own or buy any such luxury.
The helicopter and jet plane rides, he said, were paid for by the monk′s followers who want to offer
convenient and fast means of travel for Luang Pu. As for Luis Vuitton bag, Mr. Pattaradech said they
were all donated to him by the templegoers.
Mr. Pattaradech also dismissed the allegation
that Luang Puu Nen Kam slept with a woman. He told reporters that the sordid image was fabricated
4-5 years ago by someone who unsuccessfully attempted to extort 7 million baht from the
monk.
He also deflected criticism about the construction of emerald Buddha statue which costs
over 200 million baht. Mr. Pattaradech said the temple gathered money from faithful donators and all
donation procedures are transparent.
Phra (Monk) Takrit Kantadharmmo, spokesman of
Luang Pu Nen Kam, told the reporters that he has spoken to Luang Pu and insisted that the monk would
explain everything to the press once he′s back in Thailand. He denied suggestion that the Buddhist
authorities might strip his temple from religious site status, noting that the temple has never been
registered properly in the first place.
Meanwhile, Mr. Virord Chaipannana, director Sisaket′s
provincial chapter of Office of National Buddhism (ONAB), said that a committee has been established
to investigate Luang Pu Nen Kam′s financial status. He said the investigation will start as soon as
the monk returned from abroad, and if the monk is found to be guilty of any wrongdoing, he will be
instantly expelled from monkhood.
However, Mr. Virord said that the investigation will be
difficult because Luang Pu′s temple in Sisaket province is not officially registered with ONAB.
Therefore, he said, officials can only see whether the donations have been properly spent, but they
have no way of knowing where the money comes from or who really has the ownership over the massive
donation.
Mr. Virord noted that the decision by Luang Pu Nen Kam not to register his temple
officially might be a calculated move to avoid such investigation.