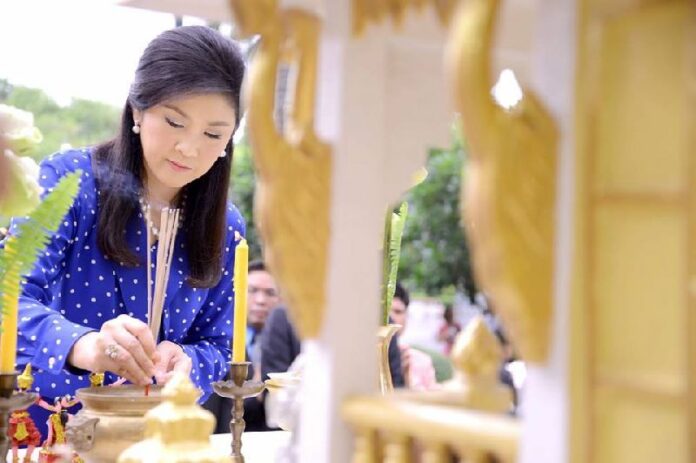 (21 June)
PM Yingluck Shinawatra marks her 46th birthday anniversary by performing religious rites and
expressing the wish to see peace in Thai society as her birthday present.
Ms. Yingluck
arrived at the Government House at 08.39 today, clad in blue blouse and skirt, which she assured the
reporters bear no political nor supernatural meaning (many Thais believe dressing in certain color
would affect their fortunes).
She began her day by praying to the Buddha figure in her
office, to the statue of Hindu deity Brahma at Thai Ku
Fah building, and to the shrine dedicated to the spirit which is believed to
reside in the Government House.
Rain started to shower lightly as she prayed to the outdoor
shrine, and Ms. Yingluck joked to the reporters that heaven is sprinkling her with holy water in the
manner of a monk blessing his templegoers, therefore it must be sign of good luck. Later, she
ordered donation of food and fruits to be brought to Priest Hospital and orphanages in
Bangkok.
Various officials streamed to the Thai Ku Fah building to wish her well, such as
Cabinet members, politicians from Chart Pattana Party, and heads of her security guards team. Every
gift brought to the Prime Minister was scanned thoroughly by bomb detectors.

Ms. Yingluck later emerged and took questions from the crowd of reporters. She
said she wanted to see love, compassion, and peace in the society as present for her 46th birthday.
She told reporters that she still had the energy to serve her role as leader of the nation. She
thanked her supporters for the moral support she had been receiving.
The Prime Minister also
urged fellow politicians to work together with creativity in order to improve the country. She
said she′s willing to listen to opinions from all sides.
Asked what present her son has given
her today, Ms. Yingluck said her son has shown her a birthday e-card he has customized for her on
the computer this morning before she left for Government House.
Later, when a reporter asked
her about the problems caused by the controversial rice mortgage scheme, Ms. Yingluck declined to
give an answer, saying that That′s enough. Please, it′s my birthday
today.

Our correspondent added that lottery hunters across the country are
busy themselves interpreting numbers associated with the Prime Minister′s birthday. Popular numbers
are 46, her age, and 2510, which is the Buddhist reckoning of the year 1967 – Ms. Yingluck′s
birthyear. Also popular is the license plate of her van, 2924.
Hardcore lottery speculators
argued that numbers surrounding Ms. Yingluck have often ended up as winning lottery numbers,
especially the license plate of her cars. While the more rational population of Thailand dismiss the
claim as fallacious observation, some anti-government critics went as far as accusing the government
of fixing lotto number.