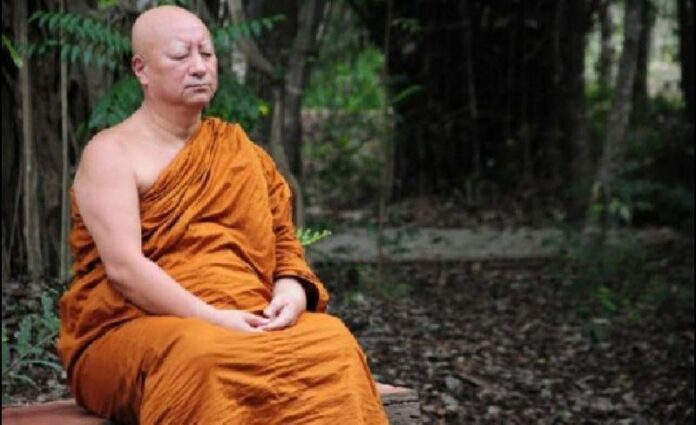 (28 June) The Japanese monk who has been gracing the scene of Buddhism in Thailand for 38 years as a soft-spoken, philosophical monk shocked the nation when it surfaced earlier this month that he had suddenly left monkhood and Thailand, leaving behind the secluded monastery and charity foundation he helped found.



Now, after weeks of speculation and lack of any public statement from the monk himself, it appears that Phra (monk) Mitsuo Gavesako has ended his career for a woman.

On Thursday night (27 June), individual who identified herself as Ms. Suttirat Muttamara posted photos on her Facebook account showing her and Phra Mitsuo – real name Mr. Mitsuo Shibahashi in their trips to various places. In the photos, set as Public, Mr. Mitsuo can be seen wearing casual clothes and expressing close affection to Ms. Suttirat.

Ms. Suttirat explained on her Facebook that she is revealing these photos to defend her dignity after she had been accused of drugging Mr. Mitsuo into having an affair with her and then blackmailing him into relationship. She insisted that Mr. Mitsuo has love for her, and said that Mr. Mitsuo himself would speak publicly about the matter.

The photos are undated and there is no confirmation whether they were taken before or after Mr. Mitsuo′s defrocking.

The difference can be crucial for his spiritual followers. In Buddhist dogma, monks cannot touch or have relationship in women during their ordination. In fact, the more strict Buddhists would even say that any lust or desire in one′s mind is not forbidden for the monks.

The news is made even more striking because of Phra Mitsuo′s writings during his years under monkhood. He has written extensively on the need for detachment from emotion as way of spiritual salvation, and some of his most famous quotes are praise of individuals who do not have relationship.

For example, in an interview with Matichon on Valentine′s Day in 2012, Mr. Mitsuo said that people can in fact live without relationship and suggested that some people suffer from jealousy, laziness, sadness, anger, and anxiety ecause they give love – which should be kept to themselves – to other people.

It is not immediately clear when Mr. Mitsuo started dating Ms. Suttirat. However, photos posted by Ms. Suttirat on her Facebook imply that she has visited Phra Mitsuo′s monastery as he was still its abbot.

Meanwhile, Mr. Vittayen Muttamara, the younger brother of Ms. Suttirat, wrote on his Facebook confirming that his sister is indeed engaged in relationship with Phra Mitsuo. He said that the news should not be seen as scandalous as Mr. Mitsuo never had any stain on his reputation as a monk and he is no longer in priesthood.

Mr. Vittayen said he believed that fate wrought out of the karma both Mr. Mitsuo and Ms. Suttirat committed together in their past life led them into relationship in this life. He added that he has no idea where the 2 would spend their lives.

There is no known official statement from Sunandhavanaram monastery – where Phra Mitsuo was based as its abbot – about the news of Mr. Mitsuo′s relationship. Previously, when Mr. Mitsuo left the monkhood the monastery said he left Thailand because he needed medical treatment in Japan for his health problems.

That did not stop the public from speculating Mr. Mitsuo′s sudden and unannounced departure. Many rumors suggested he had financial dispute with his book publishers, while some believed that he was entangled in an affair.