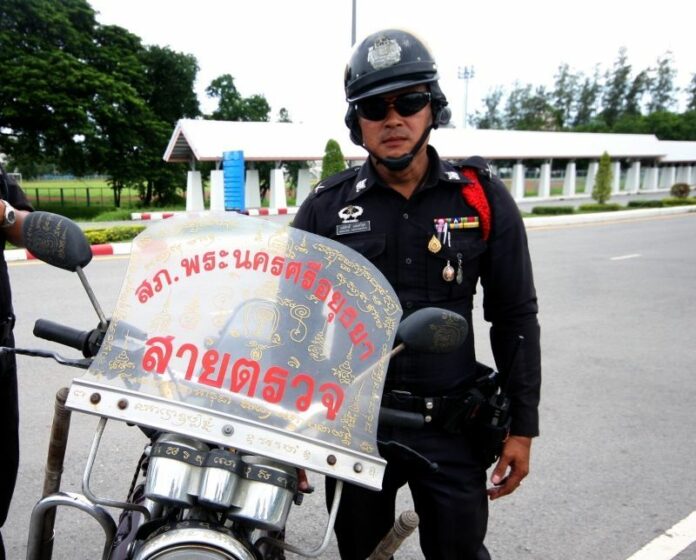 (28 June)
Worldly weapons are not deemed as adequate protection by a policeman in Ayutthaya province who also
places his trust in supernatural power to protect his well-being as he performs his duty.
Pol.Sgt.Maj. Maneesak Saentaweesuk often attracts attention from locals as he patrols the
streets on his police motorcycle – which was covered by incantation scripts written with chemical
pen. The 2 batons and radio equipment on the motorcycle were similarly scribbled with such
incantation.
The policeman told our correspondent he wrote all the hallowed inscription
himself. He said his interest in magical power dated back to when he ordained as a monk for 3 months
(1 ordination season) in his hometown and had learned some inscription writing there.
After
he started his career as a police officer, he said, he engaged in studies about Khmer and Lanna
(ancient northern Thailand) incantation, amulets, and protection spells from various monks in
Ayutthaya province. He said he also learned about magic from ancient textbooks.
As for the
spell written on his motorcycle, he explained it provided him safety and popularity with the people.
Pol.Sgt.Maj. Maneesak said he encountered many perils as a patrol policeman but the magic helped
protect him.
However, you must behave morally for the spell to work, too, he
added.
Magic and spell are big part of Thai traditional belief, and also extend to law
enforcement. Many well-known criminals believe they are protected by charms that help them evade
police and survive gunfire, while many police officers also pray to gods or spirits that would grant
them ability to fight crime.