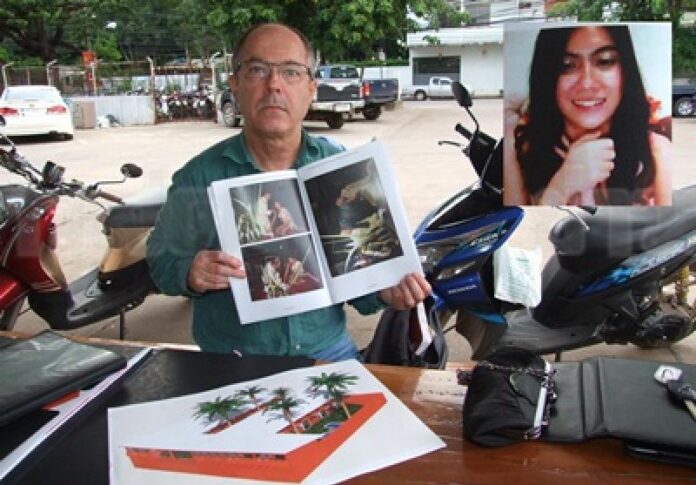 (1
July) A French architect told police he had been duped by a Thai woman who promised to marry him and
cheated him of 276,000 baht worth of dowry only to turn him away after the wedding
ceremony.
Mr. Michel Sebald, 60, visited the police in Udon Thani with his interpreter to
file charge against Ms. Pitchayanun Hirunthongwichean, a Thai woman whom he said he met in an online
dating site.
The Frenchman told police via his interpreter that he worked as an architect in
France, earning around 400,000 baht per month. Divorced some time ago, he reportedly browsed through
an online dating site in December 2012 and met Ms. Pitchayanun.
According to Mr. Michel, Ms.
Pitchayanun told him she works as assistant to court attorney and prefers foreign men, especially
French men, to Thai men. He said he fell in love with Ms. Pitchayanun because of her politeness,
manner, and beauty. He eventually asked her to marry after 4 months of correspondence.
Once
she agreed, Mr. Michel said, he wired her 20,000 baht to buy plane ticket to France, but Ms.
Pitchayanun told him he had to attend traditional wedding ceremony in Thailand. On 5 March this
year, he arrived at Nong Gung Tub Ma village in Udon Thani – reportedly where Ms. Pitchayanun lived
– and entered the wedding ceremony attended by hundreds of guests, Mr. Michel said.
He told
police he spent 276,000 baht in dowry gifts for the woman, including engagement ring, gold, iPad,
and iPhone. He said he also bought a brand-name bag worth of 50,000 baht as a surprise gift to Ms.
Pitchayanun. After the ceremony, Mr. Michel said, he and Ms. Pitchayanun spent 2 nights at a hotel
in the province′s town center.
However, according to the Frenchman, Ms. Pitchayanun refused
to engage in sexual intercourse with him during those nights, claiming that she did not feel
ready. Mr. Michel said he was not angry about it but had to leave Thailand soon afterwards because
of his Visa restriction.
Situations quickly deteriorated for Mr. Michel. He said he could
not contact Ms. Pitchayanun after his return to France, and on 29 June he arrived in Udon Thani
again to visit her at her residence only to be turned away by her relatives, so he decided to press
charge.
Mr. Michel told our correspondent he sought help from police because he did not want
other foreign men to be duped like him. As for the money, he said if it has been recovered he would
spend it on charity.
Recently, Udon Thani also received report concerning another alleged
online dating scam. Ms. Ratri Bhodiraj, 39, visited the police on 20 June and told them she was
scammed by an American individual she met in online dating site.
According to Ms. Ratri, an
American with the name Mr. Jason Smith who lives in California told her he wanted to marry her but
she had to wire him 90,200 baht for procedure fee, which she did. The wedding never took place, Ms.
Ratri said.