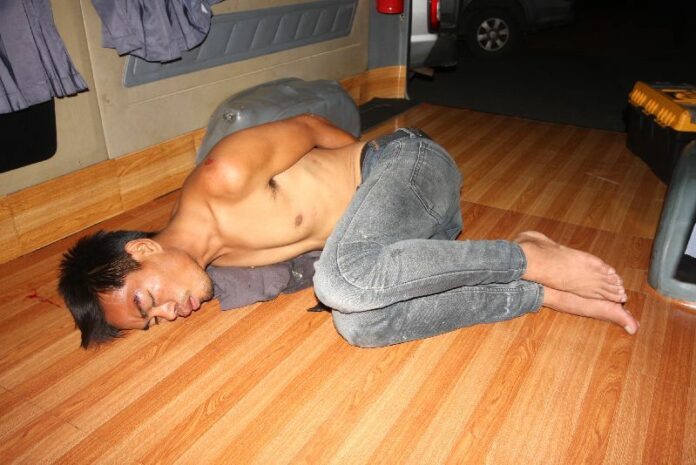 (29 June) A bus
hijacking incident in central Bangkok led to massive police pursuit and caused considerable damages
to both citizens? vehicles and tollway checkpoints.


Around 21.00 Ayutthaya police received report from Bangkok police units
that a suspect has commandeered 34 Bus from Victory Monument, a busy district in the capital city,
and was headed for Wang Noi district in Ayutthaya province, smashing the vehicle into many cars and
expressway checkpoints.

After giving chase to the bus, the police eventually managed to stop
the hijacked vehicle after the suspect rammed into a parked 18 wheeler in Sanub Tuek district. The
suspect was described to be in insane condition, shouting incoherently, when the police
apprehended him. He was later identified as Mr. Pumarin Paensomboon, 31, a resident of Supanburi
province.

Mr. Pumarin told police he hijacked the bus because he is a superhero from another
planet and he needed the bus in order to rescue certain extraterrestrial beings, saving the entire
world in the process. The man remained in custody.

Mr. Prasit Suk-in, 55, the driver of the
commandeered bus, said when he and the bus conductor were parking the bus at Victory Monument, Mr.
Pumarin entered the vehicle and shouted everyone to leave the bus. When Mr. Prasit attempted to
apprehend Mr. Pumarin, he said, the suspect fired a slingshot at him.

According to Mr.
Prasit, Mr. Pumarin also produced what seemed to be a weapon from his bag, so he and others
evacuated the bus while Mr. Pumarin drove it away, ramming it into anything in his way.

Despite the destruction Mr. Pumarin left in his wake, no injury nor death was reported to
the police. Representative of the Bangkok Mass Transit Authority said it will pay compensation to
civilian cars which were damaged by the incident.