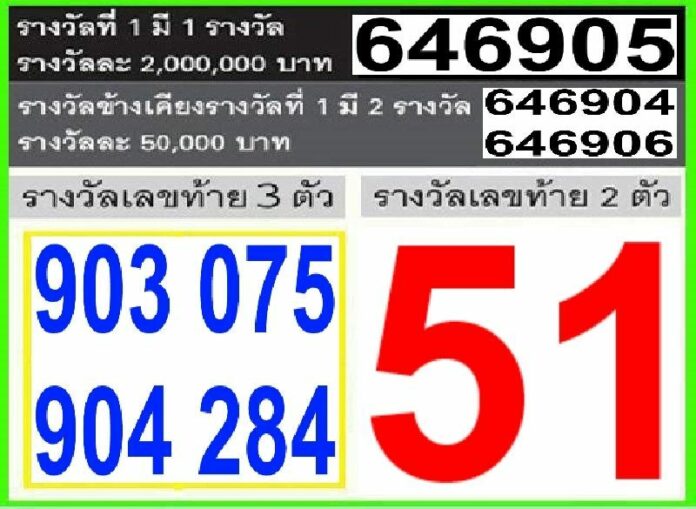 (1 July) Thailand is increasingly known for its passionate political situation. Its people have also long been known for the widespread passion about lottery numbers.
↵
Therefore, it does not come as a surprise for many that the 2 issues regularly collide.
The 1 July lottery draw is the latest case that led to rumors that political interference might be involved.
Although no one has yet claimed to have won the draw′s biggest prize-winning number,
646905, many supporters of PM Yingluck Shinawatra have scored big wins because they have bet on numbers ending with 5 in the underground lottery systems – immensely popular among the Thais – which pays out to whatever last 3 numbers that appear on the official biggest win. In this case, it is 905.
Why 5? Because 5 is the nickname of Ms. Yingluck′s latest Cabinet line-up, Puu 5 (Puu is nickname of Ms. Yingluck).
Many hardcore lottery hunters view Ms. Yingluck as "lucky" figure since various numbers surrounding Ms. Yingluck′s personalities often appear on the winning tickets, such as her age and the license plates of her cars. Likewise, her supporters like to bet on those numbers as show of support.
While such connection between Ms. Yingluck and winning lotto numbers seem to be nothing more than fallacious perception, some anti-government critics accuse the Yingluck administration of huay lock (lottery rigging), a charge repeatedly denied by lottery officials.
The 1 July draw extends beyond Ms. Yingluck, however. The other winning numbers include 903, 904, and 906. The numbers 903, 904, 905, and 906 do not only constitute a very remarkable line-up, they also bear very special meaning for Thais.
903, 904, 905, and 906 are well-known police radio callsigns assigned to His Majesty the King′s 4 children: Princess Ubolratana Rajakanya, Crown Prince Vajiralongkorn, Princess Sirindhorn, and Princess Chulabhorn, respectively. In this system, His Majesty the King is identified as 901, and Her Majesty the Queen 902.
The appearance of such numbers in the very same draw struck many Thais as odd and somewhat ominous, as the topic of Royal Succession seems to be in everyone′s mind nowadays. It remains a topic rarely discussed in the public, though, as any discussion of the Royal Family is punishable up to 15 year jail term.
Nevertheless, Pol.Maj.Gen. Attakrit Tharichatra, director of the Government Lottery Office, said in an interview that the numbers are coincidental and perfectly possible in lottery random system.
"We have different machines for the draw, but, of course, it is up to the buyers to interpret the numbers," he said.