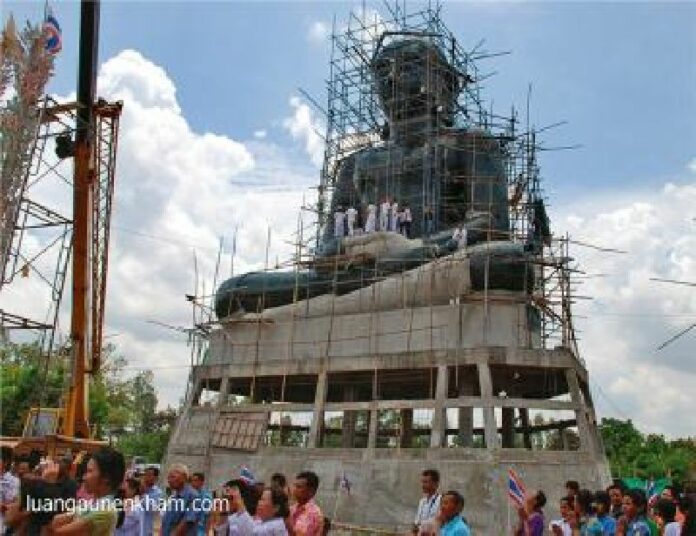 (3 July) The national
anti-money laundering agency is set to investigate the bank accounts of a controversial abbot which
were alleged to house more than 200 million baht, as calls for Buddhist authorities to punish the
monk for his excessive lifestyle are growing.
Luang Pu Nen Kam Chattiko was launched into
national and worldwide attention after circulation of video showing him riding private jetplane,
toting an iPhone and Louis Vuitton bag.
He was later revealed to command numerous spiritual
followers, many of them businessmen and police officers, while at his Wat Pa Kantitham monastery in
Si Saket province the construction of World′s Biggest Emerald Buddha statue, believed to have cost
2.5 billion baht in donation money, was recently completed.
His followers say Luang Pu Nen
Kam is a reincarnation of a blessed man. The term Luang Pu means Elder/Grandfather Monk, as his
supporters insist that he had accumulated many years as a holy man in his previous
lives.
Today, Phra Kru Wisuttiyarn, prelate of the Buddhist monks? order in Si Saket
province, said that the investigation committee formed by the order is still waiting to meet with
Luang Pu, who is currently believed to be traveling in Europe, so they can discuss about his
behavior.
The prelate gave deadline for Luang Pu Nen Kam to meet with the committee within
the end of July. If the monk did not show up within appointed time, Phra Kru Wisuttiyarn said, he
will be barred from entering any temple under jurisdiction of the Buddhist
authorities.
As for news reports about Luang Pu
Nen Kam′s massive wealth in his bank accounts, Phra Kru Witsuttiyarn said it is not against Buddhist
dogma for monks to have money because they need to pay for medical care and travels, but it is
imperative that the money is strictly reserved for religious cause and not personal
possession.
On the same day, Mr. Permpoon Puenprasit, deputy chief of the Division of Special
Investigation (DSI), said many Buddhists have filed request that his agency launch an investigation
into Luang Pu′s wealth and the construction of the gigantic ?Emerald Buddha? statue.
He said
the DSI will cooperate with the Anti-Money Laundering Office (AMLO) in their efforts to probe the
monk′s assets.
Mr. Permpoon said the DSI will also look into an establishment called World
Peace University after it emerged that one of Luang Pu Nen Kam′s major supporter who serves as his
de facto spokesman to the press has a doctoral degree from the said university but national
education record does not recognize the establishment as legitimate college.
Meanwhile, Mr.
Songkran Acchariyasab, an anti-corruption activist, met with Pol.Cpt. Suwanee Sawangpol, vice
secretary of the AMLO′s operation unit, to file report about possible fraud surrounding Luang Pu Nen
Kam′s Emerald Buddha project.
Mr. Songkran said he believed the 2.5 billion baht Emerald
Buddha could have been completed with no more than 30 million baht. Moreover, he said the AMLO
should find out what happened to roughly 8,000 kilogram of gold worth of 9 billion baht that Luang
Pu has raised through his donors.
The activist told AMLO representative that some relatives
of Luang Pu Nen Kam is abnormally rich, with some properties in their possession worth over 20
million baht along with numerous sports cars.
Pol.Cpt. Suwanee Sawangpol, the AMLO official, told
our correspondent that 70-80% of the monk′s assets are suspected to be illegal, as millions of
baht were transfered daily from dozens of bank accounts held by Luang Pu Nen Kam and his close
followers. Movement of such vast money is against anti-money laundering laws, she said.
She
said these bank accounts have been frozen by AMLO′s order now, and added that if it is confirmed
that the money has been used in purchasing expensive goods such as cars, the account holder might be
guilty under anti-money laundering legislations.
Many bank accounts of Luang Pu and his
followers have already been investigated and the agency will continue to probe in to the rest, she
said.
Mr. Amnart Buasiri, vice director of the Office of National Buddhism (ONAB),
said the Office cannot examine the assets of Luang Pu′s monastery because it was registered as
charity foundation and not as Buddhist temple, therefore exempting it from national Buddhist
authorities. He said he is relying on AMLO to do the work.