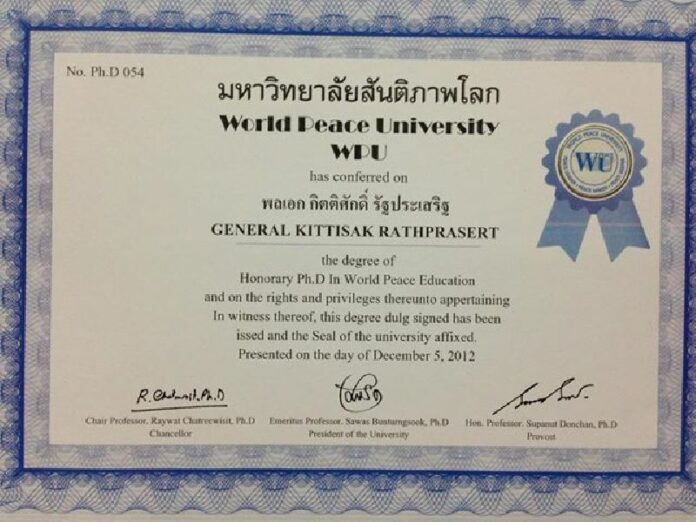 (3 July) The controversy
surrounding the Louis Vuitton-toting monk that has been raging for weeks has placed the spotlight on
a separate sideshow: honorary degrees from a questionable education establishment which calls itself
World Peace University.
The issue came to mainstream media attention when it has been noted
that the most prominent spiritual follower of the controversial monk Luang Pu Nen Kam holds a
doctoral degree in his title; Thais generally display their Ph.D. by placing Dr. in front of their
names on official documents..
Mr. Sukum
Wongprasit has been serving as a de facto spokesman
for Luang Pu Nen Kam to the press. His education profile claims that he has earned an honorary
doctoral degree from World Peace University (WPU).
However, the establishment does not
appear to exist as a functional college. Its website does not specify where the college building is
located, and it does not list any faculty member or teaching curriculum.
What is most
prominent in the WPU′s website and its media outlets is its boasting of many celebrities and
bureaucrats as its alumni who were decorated with wide range of extravagant degree titles such as
Honorary Professorship in World Peace or Honorary Doctorate in Social Volunteer
Spirit.
In fact, Daily News has reported in December
last year that the authorities have received complaint about the WPU. The complaint said the said
agency might be fake university. However, the incident appeared to lead to
nowhere.
Reinforced by the raging controversy about Luang Pu Nen Kam, the authorities renewed their
efforts to investigate the so-called World Peace University.
In the past
few days, the Office of Higher Education representative says the WPU has never been registered in
its database, and many officials have raised concern that the University might be nothing more than
a degree factory, i.e. an agency that charges high amount of money in exchange with decorative
degrees.

Mr. Kamchon Tatiyakawi, vice secretary of the Officer of Higher Education said
he has summoned the director of WPU for a meeting about the matter. He said had made it very clear
in the conversation that the WPU is not legally allowed to operate under the name university as it
is not a properly registered institution.
By laws, they can?t just hand out papers and call
them degree, Mr. Kamchon said, adding that the action is similar to a private company handing out
driving license to customers on its own.
Those who receive the degree might be misled into
thinking that they are legitimate qualifications, he said.
Mr. Tharit Pengdit, chief of the
Division of Special Investigation, voiced the same concern in a press conference. He said the World
Peace University clearly violated the laws since it is not a registered university. The offenses
included brandishing logo that advertise itself as a university, Mr. Tharit said.
The DSI
chief said he had been informed that an individual must pay 15,000-350,000 baht in order to receive
the degrees.
He told reporters the investigation into the establishment for potential fraud
and false foundation registration is underway. Mr. Sawad Bantoensuk, the director of WPU, has been
summoned to meet with the DSI in near future, according to Mr. Tharit, who added that if Mr. Sawad
resists an arrest warrant will be sought.
A number of WPU alumni contacted by Khaosod
insist that they did not make any payment for their honorary degrees, and many say they were not
aware of WPU′s legal status when they attended the graduation ceremony.
Suthep
Wongkamhaeng, the famed singer who earned the (perfectly legal) title of National Artist in 1990,
said he was contacted by the WPU staff who told him he is eligible for a free honorary doctoral
degree. The ceremony handing out the degree took place 3-4 days after the call, Mr. Suthep
said.
He said he did not pay money to WPU. Asked if he is upset by the news that the agency
might not be a legitimate university, Mr. Suthep said he is not angry because I just take what they
give. That′s all.
Tik Zero, a famous singer and actor, told Khaosod the WPU called him 3
months ago to inform him that he was going to receive an honorary degree on Outstanding
Personality.
I was initially skeptical. People on Facebook told me to be careful because
it might be something wrong … so I sent my driver to visit the ceremony venue. He returned to tell
me there were many celebrities at the ceremony, so I decided to go. Well, I was a bit surprised,
too, but I didn?t think too much, Tik, whose real name is Mr. Manaswin Nantasen, told our
correspondent.
Mr. Somrak Kamsingh, a well-known boxer and the first Thai to win Gold Medal
in Summer Olympic Games, said he received the honorary degree after the WPU offered him the degree.
He said he was the only sport star at the ceremony; the others were MPs and military
officers.
Both Mr. Somrak and Mr. Manaswin insisted they did not pay any money to WPU.