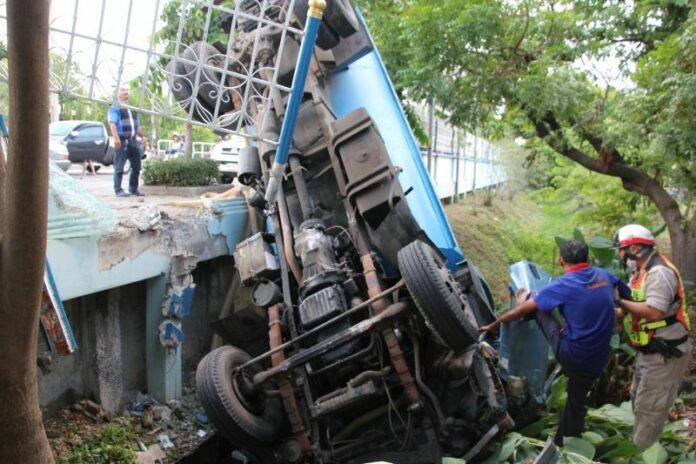 (6 July) Water truck crashed into 3
vehicles and plunged into a canal near a school in Nakorn Ratchasima province after the driver
reportedly argued with his wife while driving.
The accident took place in front of Suranaree Wittaya school on Mittaparp Road. When police
arrived, Mr Suchart (surname unclear), 38, was being loudly scolded by his apparently angry wife who
was being restrained by the school teachers and some locals from lurching at Mr.
Suchart.
Mr. Suchart told police he was delivering
fresh water to customers in the province and had been arguing hotly with his wife on the way. He
said he lost control of the truck when the woman took hold of the steering wheel and drove the truck
madly onto the sidewalk, hitting 3 cars and the school′s fence, then plunged down the roadside
canal.
However, Mr. Suchart′s wife told the officers she thought she saw a motorcycle coming
toward the truck when she took the steering wheel.
Although no injury was reported, a police
officer said it was extremely fortunate that the school session was ongoing at the time of the
accident.
The officer said the road around the school was usually packed with students leaving school
in their parents? cars or buses in late afternoon, and it would have been a tragedy if the accident
had taken place during that
time.