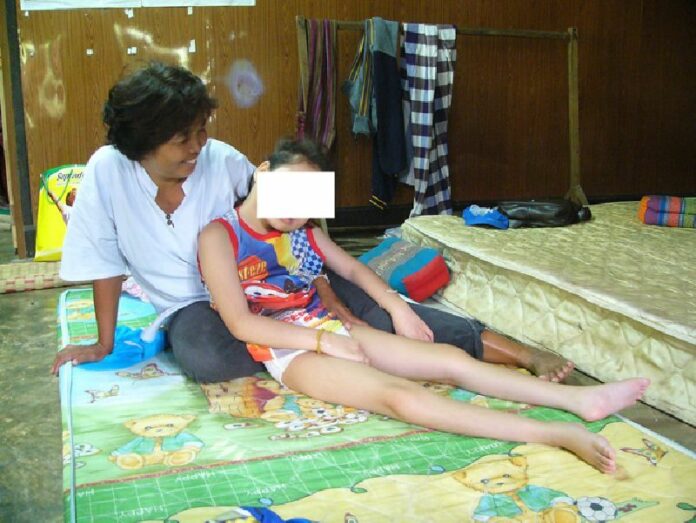 (5 July) A vendor
in Surin province has asked Khaosod to publish the story of her disabled daughter in hope that
sympathetic citizens might send her help.
Ms. Somniang Sinsiri, 48, sells
pa tong go (Thai street breakfast delicacy made of flour) at the bus depot in Prasart
district when she is free from seasonal rice-farming works.
When our
correspondent visited her, she was cradling her 10-year old daughter, Yok. Despite her age, Yok can
neither communicate verbally nor walk upright. She crawls around on the floor, earning a nickname
The Snake Girl from her neighbors.
Ms. Somniang said Yok is her 3rd and
youngest child. She told our correspondent she had to feed food and water to Yok as a mother would
do to a toddler. Yok also suffers from regular seizure, Ms. Somniang
said.
The half-farmer, half-vendor said a doctor at the provincial hospital
told her Yok is suffering from slow brain development. However, even with medicine prescribed to her
by the doctors, Ms. Somniang said, Yok′s conditions barely
improved.
My neighbors told me to seek help from channelers instead,
which I did. The necromancers told me my daughter was a snake in her past life, so I let them
conduct karma-cleansing rituals for my daughter, but that did not help neither, Mr. Somniang
said.
Ms. Somniang told our correspondent she′s entitled to 500
baht per month from the local authority for Yok′s medication, but it was not enough and she
had to stop selling food some days as she had to take care of Yok closely. She pleads for financial
help from any sympathetic reader.

Those who wish to assist Ms. Somniang
are advised to contact Nong Yai Subdistrict Administrative Organization.