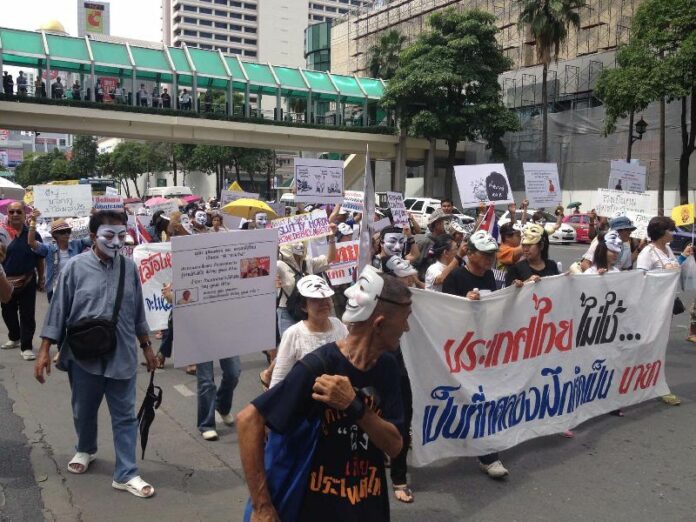 (7 July) Hundreds of anti-government protesters gathered for their
weekly rally today in central Bangkok despite earlier reports that the group′s coordinators have
suspended its activities in Bangkok.

The Facebook group V For Thailand, which has been playing
a crucial role in initiating the wave of anti-government protest that saw its sympathizers adopting
Guy Fawke Masks as their symbol, has posted a statement calling for a emporary suspension of
further rally in Bangkok, out of fear that their movement is increasingly subverted by veteran
activists of the Yellowshirts.
Both the Yellowshirts and the so-called White Masks
campaign against the government of PM Yingluck Shinawatra, arguing that she is merely a puppet of
her older brother Former PM Thaksin Shinawatra, whom the Yellowshirts and the White Masks protesters
see as corrupt, anti-monarchy figure.

V For Thailand suggested that the White Masks
rallies in Bangkok be suspended after some members of the Yellowshirts leaderships appeared in the
recent marches and attempted to dominate the largely-decentralized
protests.
Nevertheless, around 300-400 protesters wearing their
trademark Guy Fawkes Masks showed up at the usual rallying point in front of Central World shopping
mall today. As usual, they marched along Rama IV Road to their destination at Bangkok
Art&Culture Center before dispersing in the evening.

Also, as usual, some of the
protesters carried banners vilifying Mr. Thaksin and Ms. Yingluck. Thaksin′s Minions, Get Out!
some protesters shouted along the march, while some others hold up banners accusing the government
of mismanaging their country.
However, the number of the protesters visibly dwindled, our correspondent at
the scene has reported. In previous weeks, several thousands of the White Masks flooded the heart of
Bangkok′s downtown. The police estimated that only
o more than 400 protesters showed up
today.
The decline in participants number is due to confusion over
the V For Thailand′s statement and fear that the more aggressive Yellowshirts might hijack the
rallies, our correspondent said.
Earlier this week, there has been reports that a wing of
the Yellowshirts would don the masks of Hanumarn – the mythical white monkey god in the Ramayana
epic – and step in to lead the protest this week. The report appeared to be untrue. Our
correspondent has seen no Hanumarn Masks in the crowd, although some police officers say they
spotted 3-4 Hanumarns at the rally.
The protest ended without any reported violence. The
next rally – according to V For Thailand group – is to take place in front of Lumpini Park on 14
July.