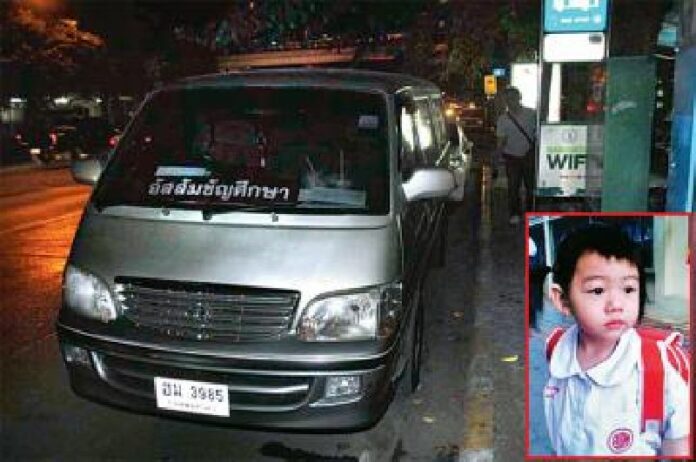 (4 July) 3-year old girl is fighting for his life in hospital after he fell down from a
moving school van and was crushed under its wheels.
Parita Chanmontol who was nicknamed Por
Chai by her parents was on her way home from the kindergarten in Assumption Bangrak College in
Bangkok when she opened the school van′s door as it sped along Soi Charoen Nakorn 18 and tumbled
onto the road.
The vehicle′s back wheel smashed her rib and shoulder. A rib bone also
punctured her lung. She was sent to Samitivej Hospital and her condition is described as very
severe.
Mr.
Wuttipong Suwansirisilpa, 46, the van driver, said a 6th grader was manning the door, opening and
closing the door when the van dropped off children at their houses.
He said he dropped the 6th grader and
other students off to buy food at a 7-11 store in Soi Charoen Nakorn 18 and continued on
his
way with Parita onboard. S
hortly afterwards, Mr. Wuttipong said, he heard the car door opened,
so he looked into the rear window and saw Parita falling out of the
car.
I
stopped the car and found her under the van′s wheel, Mr. Wuttipong told police, adding that he was
sure the 6th grader has closed the door properly as she exited the van at the 7-11 store. It is not
immediately clear whether Mr. Wuttipong has locked the van door.
Police believe Parita, who was sitting
near the door, opened the door out of her curiosity. Mr. Wuttipong has been charged with driving
with negligence and causing grievous harms to others.
It is the latest addition to series of
shocking incidents in which school children were killed or injured following acts of negligence.
Earlier this year, in 2 separate incidents, 2 young school children suffocated to death in their
school vans after the staff parked the vehicle and forgot that they were
onboard.