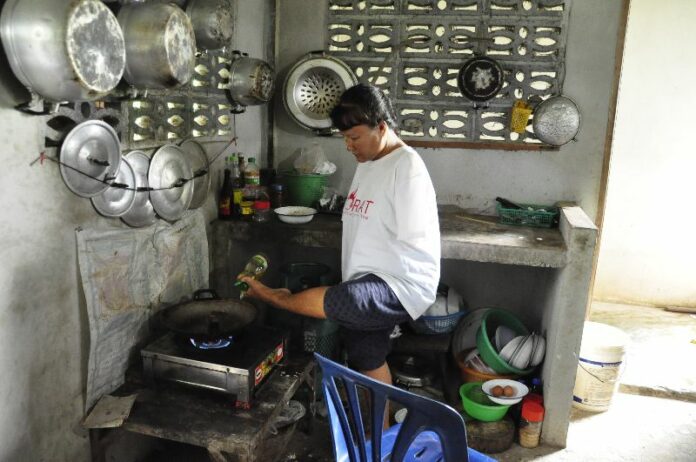 (8 July) Ms. Runglawan
Carick, a 37 year old resident of Nakorn Rajasima province, has no
arms.
But she still does variety of works to support herself and pay school
tuition for her sister′s 3 small children; she reaps the marigold, harvests the corns, and
root out unwanted flora for her neighbors – all this with her feet.
Ms. Runglawan, who lives in Wang Namkeow district, was born
without arms and has been living with her sister′s 3 young children for several years
now.
She has been raising money by occupying any possible job to
support their education, as she never had the chance when she was young, she said, due to her
family′s financial difficulty.
Apart from the wide range of
jobs, she can also do plenty of house work, and has a magnificent skill in drawing.
In an
interview with our correspondent, Ms. Runglawan says she never gives up.
It′s already a great miracle to be born as a human,
she said, I learned to live my life worthily and stay strong
Mr. Manote Lap-Chitr, the Director of Wang-Namkeow Non-Formal
Education Service Centre (FES), said that in 2009 the centre heard of Ms. Runglawan′s story
and immediately gave her some support.
Now Ms. Runglawan has been
attending Primary School at the local Non-Formal Education Centre. During this time, they discovered
her magnificent drawing skill, particularly in portrait style, and she only takes 3 minutes to draw
portraits of flowers and landscape views.
Mr. Manote also disclosed that
Ms. Runglawan recently won the Northeast Region Non-Formal Education
Competition.
Now she is part of the ?Amazing Power? Team
of the Nakorn Rajasrima′s FES Centre and will be a representative for the region to attend the
National Non-Formal Education Competition on July 16th, at Impact Arena, Muengthong Thani in
Nonthaburi.