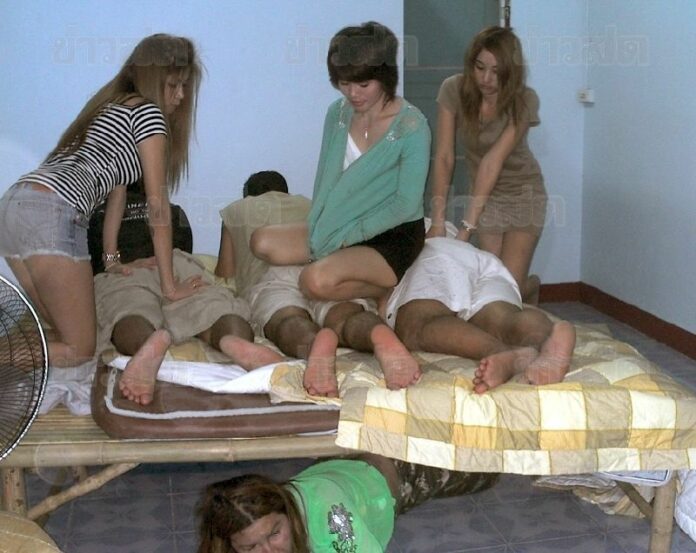 (8 July) Pattaya police arrested 4
individuals who confessed to conning foreign tourists into their penis massage
service
and stealing from the victims.
The police were informed about the
crime by 3 tourists from India. They told police they were duped into penis massage by 3 women at a
room in Soi Sukhumvit 40, Central Pattaya, and later realized that their wallets were missing when
they returned to their hotels.
The 3 Indians said they have lost
around 2,350 US dollars in total to the suspects.
Penis massage, known in Thai as
nuad krapoo, involved rubbing the customers? genitalia and arousing them sexually. Some
of the performers also offer sexual intercourse for an extra price.
The police later sought for the 3
suspects, and received tips from local informants that 3 ladyboys who matched the wanted profile
were seen soliciting their sexual service to 2 other foreign tourists in Pattaya. Believing that the
suspects were about to scam yet more victims, the police raided the room.
Inside the room, the officers found
the 3 suspects, identified as Ms. Dusadee Surisang, 30, Ms. Prakai Prasitnork 37, Ms. Praewpan
Khaosum-ang, 24, as they performed their trade on the 2 foreign tourists on a bed. Mr. Sutat Prompakdee, 39, was also
found hiding under the bed. The 4 were arrested and escorted to police
station.
The 4 suspects confessed to stealing from the 3 Indian tourists. They explained their tactics to
police that while Ms. Dusadee, Ms. Prakai, and Ms. Praewpan distracted the victims by performing
sexual acts, Mr. Sutat who was hiding the bed would sift through the pants pockets of the victims,
finding wallets, phones, and cash.
They said they
would escort the victims back to their hotel, and fled the scene before the victims were aware of
their lost items. The 4 said they had done this many times, and always changed the venue for their
operation.
The 3 Indian
tourists confirmed the suspects? identity to the police. The suspects were brought afterwards
to the crime scene to rehearse the steps of their crime for the investigative
officers.