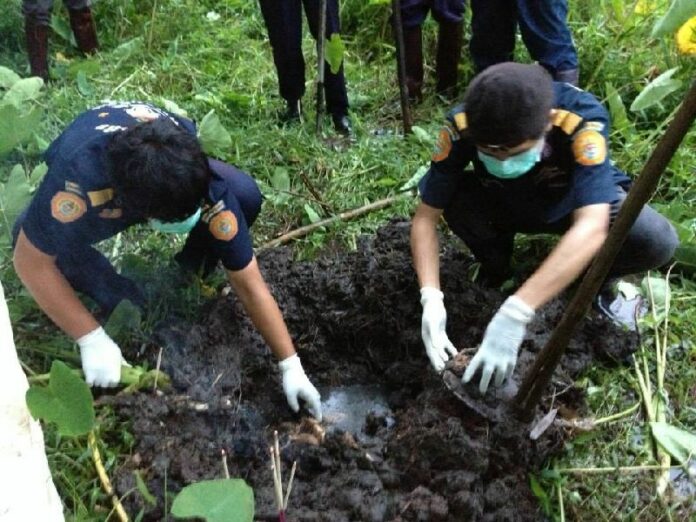 (9 July) A man in Chiang Rai province has confessed to police that he killed and hid the
body of his son, whom his wife has reported as missing to the police just a month
ago.
On 3 June, Ms. Chaliao Singhachu reported to police that she
had returned from a trip to find that her son Mr. Surapong Singhachu, 28, had gone
missing. 2 days later Mr. Kampon Singhachu, Ms. Chaliao′s husband, notified the police that he had
already got in touch with his son who was reportedly away in another
province.
However, the
police officers became suspicious and had been investigating the case throughout the previous month.
Mr. Kampon eventually told police he had killed Mr. Surapong and faked the story to cover his
crime.
Today Mr.
Kampon led the police to the forest near his village in Wiang Pa Pao district to identify the spot
where he had buried the remains of his son. Mr. Kampon said he had burned Mr. Surapong′s body and
scattered the bones and ashes around the forest. The police retrieved more than 20 human bones in
the area, which would undergo identification procedure.
The suspect told police that Mr. Surapong was a drug addict.
He said he had scolded his son about his drug habit many times, but Mr. Surapong refused to quit. On
the day the crime took place, Mr. Kampon said, his wife was not home and he got in fights with Mr.
Surapong over his addiction.
According to Mr. Kampon, Mr. Surapong became very violent,
even beating him with a belt, so he fought back and Mr. Surapong fell backwards, his head hitting
the room wall. Once Mr. Kampon discovered that his son was dead, he said, he panicked and quickly
burned the body, then hid the remains in the secluded spot.
Police have charged Mr. Kampon with murdering and hiding the
body of the victim. Police say the investigation is ongoing.